June 21, 2021
Revealed: 8 strongest office markets investors should consider looking into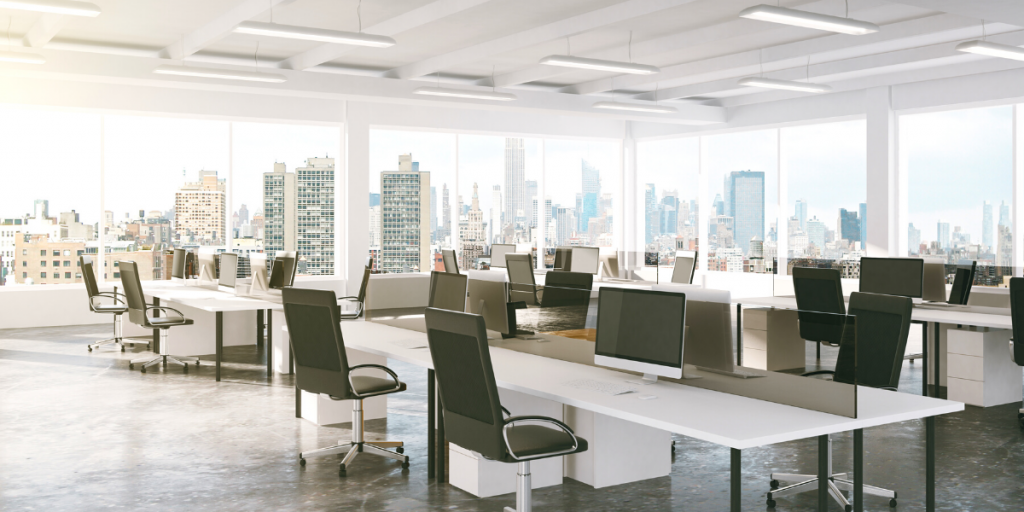 ---
The COVID-19 pandemic has kickstarted the work-from-home trend, which will likely remain a significant factor in the activity in the office markets.
---
The outlook for the office markets across the United States might still appear murky but silver linings are starting to show as the economy maintains its momentum amid the vaccine rollout and the resurgence of consumer confidence. How will the office market fare in the next few months and what should office investors do?
How did office markets perform in recent quarters?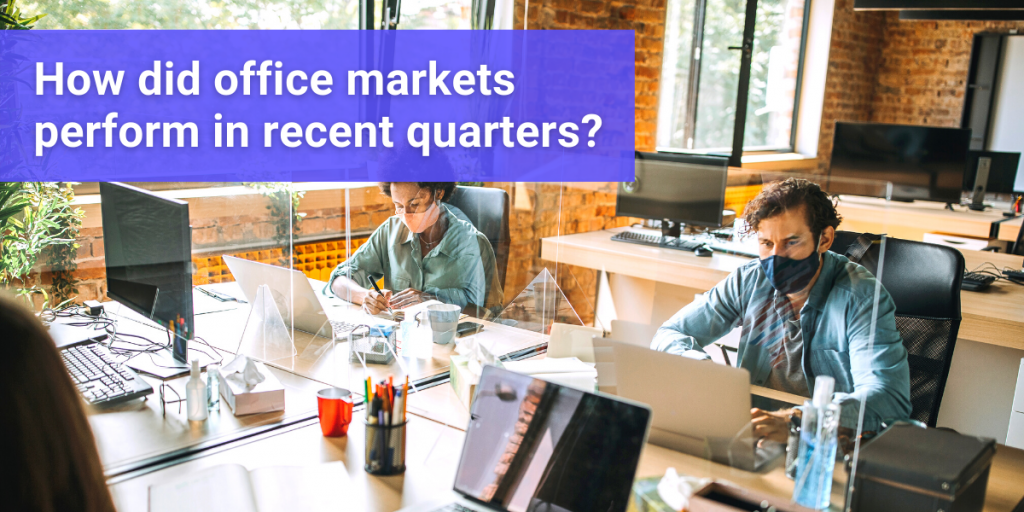 The first three-month period of the year witnessed a subtle rise in the number of vacant office across the United States, with the national average vacancy rate increasing to 14.2%, according to Colliers.
Houston had the highest share of empty offices among all markets, with its vacancy level still above 20%. On the other hand, Central Idaho was the tightest office market, with only 2.3% of its offices sitting empty.
The overall net absorption in the US office markets fell by over 46m sq. ft., setting a new quarterly low. New York City led the decline, with a 12.2m sq. ft. decline in net absorption level. Los Angeles and Dallas-Fort Worth also registered substantial dips.
There is an expected surge in office spaces over the coming quarters given the elevated construction figures. During the first quarter of the year, 136.1m sq. ft. of office space was under construction, higher than the 125.2m sq. ft. — the previous cycle peak — achieved in the second quarter of 2008.
San Francisco Bay Area rose as the top market with the highest office construction activity. Over the first three months of the year, around 18.3m square feet of office space was in construction in the market.
New York City Metro followed, with 14.9m sq. ft. under construction. Washington D.C. (8.9m sq. ft.), Austin (7.8m sq. ft.), and Atlanta (7m sq. ft..) complete the top five markets with the busiest office construction activity.
Will office rents recover?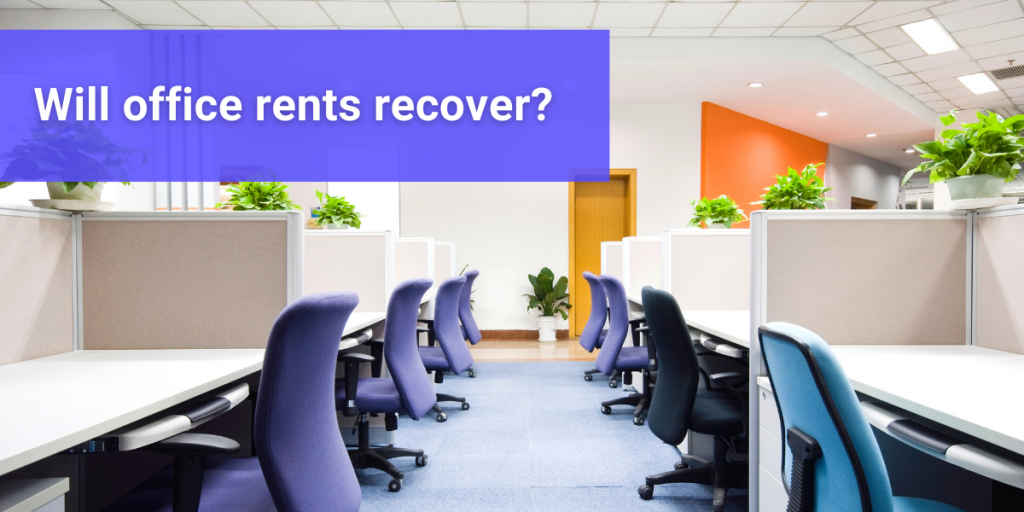 Office rents seem to be in the midst of recovery across the US markets. In fact, the National Office Report by CommercialEdge showed that the average office lease rates across the country have increased by 1.4% on a yearly basis in March, resting at $38.67 per sq. ft.. On average, listing rates for office buildings with a size of 50,000 sq. ft. or larger increased by $0.36 from the previous month.
Offices in Manhattan had the most expensive rents during the month. The city reported an average listing rate of $85.82 per sq. ft.. San Francisco followed with lease rate hitting $69.66 per sq. ft..
Bay Area registered the third-highest average listing rate at $57.11 per sgft. On an annual basis, the region reported the highest year-over-year growth at 8.6%. The office market of Washington, D.C. clocked the second highest rental growth at 6.4%, followed by New Jersey with 3.9%.
However, a prediction by Moody's Analytics CRE Solution earlier this year indicated that the office sector will likely suffer more this year than it did in 2020. The average rents across the US office markets were projected to drop by 7.5% this year before stabilizing in 2022.
Silicon Valley is expected to bear the brunt as San Francisco might realize an overall decline of 15% this year. The odds are also against New York, which could potentially record an 8.9% decline in rents. Overall, national rents have a possibility of declining by 1.8% over the year, driven by the drops in these two cities. However, the continuous vaccine rollout and a sustained economic recovery could see both markets post a turnaround in 2022.
Where are the bright spots for the office markets?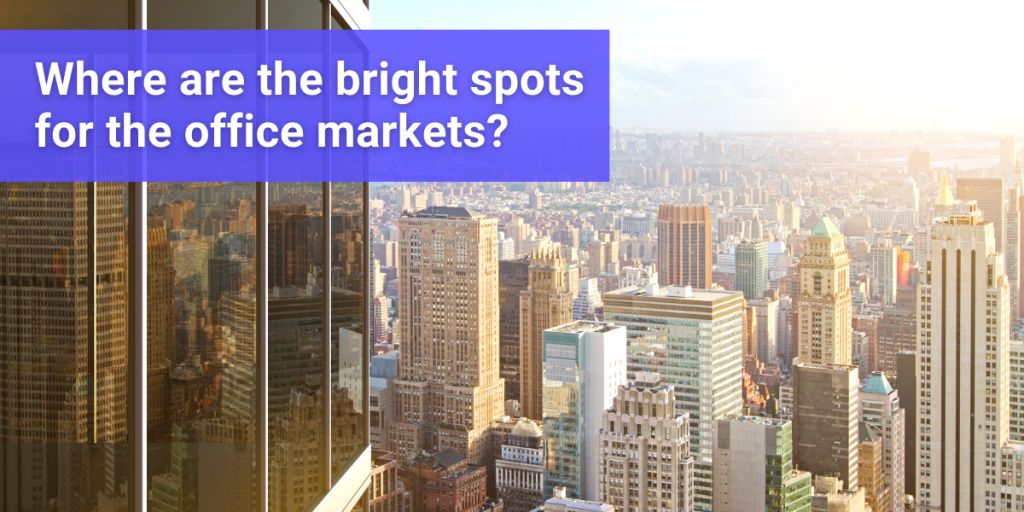 At the end of 2020, office investment activity increased across the country, totaling $27.6bn according to Colliers. This suggested that investors are actively seeking opportunities to acquire office assets. Suburban office assets were the most popular among investors during the last quarter of 2020.
Los Angeles, Chicago, Boston, San Francisco, Washington D.C., and New York accounted for over half of annual sales volume last year at $43.8bn.
An outlook released by Marcus and Millichap identified eight momentum markets that have been performing above the US average. These markets are expected to create more jobs and welcome more people, which is positive for office demand. These include:
1. Atlanta
Atlanta's steady economic performance relative to other markets across the US make it an attractive place for office investment. Georgia was among the earliest states to loosen restrictions, allowing the capital city to welcome remote workers. In fact, the city was able to record a 2% population growth last year.
Around 93,000 jobs are expected to be created in Atlanta this year, 14,000 of which are from the traditional office-using sectors.
Developers in Atlanta continue to be active. This year, around 4.4m sq. ft. of office space is expected to be completed. Most of the space are in the Midtown and Pershing Point submarkets.
2. Charlotte
Charlotte is another area to watch out for this year. The market is expected to create roughly 30,000 jobs this year, representing a 2.5% growth.
While Charlotte is expected to post a slight increase in vacancy rate, asking rents in this market is still poised to increase by 1.9% to $27.82 per sq. ft.
3. Minneapolis-St. Paul
The Minneapolis-St. Paul Metro Area is also another bright spot for the office sector. By the end of the year, this market is expected to create around 110,000 new jobs.
For the whole year, around 2.04m sq. ft. of office space is expected to be added to the market's current stock.
4. Raleigh
Asking rents in Raleigh are projected to fall slightly by 0.7% to $25.45 per sq. ft. for the whole year. The overall amount of office space to be added this year is also likely to be smaller at only 1.89m sq. ft.
However, employment forecasts lift the overall sentiment in the market. Raleigh is on track to create round 37,000 jobs this year, which translates to a 3.9% in employment.
5. Riverside-San Bernardino
The office market of Riverside-San Bernardino is anticipated to realise a 2.1% increase in asking rents to $22.45 per sq. ft. this year. This will come as 40,000 jobs are created in the market.
In terms of supply, the market targets to complete 240,000 sq. ft. of office space this year. This is down by 0.4% compared to last year. However, limited supply means an opportunity for asking rents and office values to surge higher.
6. Sacramento
Sacramento remains as the lowest-priced major market for office investment in California despite the 4% increase in pricing that boosted its asking rents.
Roughly 626,000 sq. ft. of office space will be added to Sacramento's stock this year. As older office spaces and higher-quality ones join Sacramento's leasing market, asking rents is expected to continue their uptick to hit 0.4% this year.
However, it is interesting to note that vacancy rates in Sacramento could further rise as state agencies and private firms evaluate their office needs. Vacancy levels in the region could hit 14.5%, the highest level since 2016.
7. Tampa-St. Petersburg
Stellar economic indicators point to a vibrant office market in Tampa-St. Petersburg this year. The local economy has performed robustly amid the pandemic relative to most markets in the US, driven by the strong population growth and low joblessness rate.
The net migration to Tampa Bay reached 26,400 last year while its unemployment rate hit 4%, one of the lowest among the major markets across the country.
Local unemployment is anticipated to increase by 3.4%, which indicates the creation of 45,500 jobs this year. Around 18,000 of these jobs are from the office-using sectors.
8. West Palm Beach
West Palm Beach has one of the strongest outlooks for rent growth. The market is set to realize a 4.4% growth in rents to $25.8 per sq. ft.. This will come as 1.05m sq. ft. will be added to the market's stock.
The strong outlook for West Palm Beach's office market hinges on its strong employment forecast. Over the year, the market is expected to create 12,000 more jobs.
Will the work-from-home trend continue to affect office markets?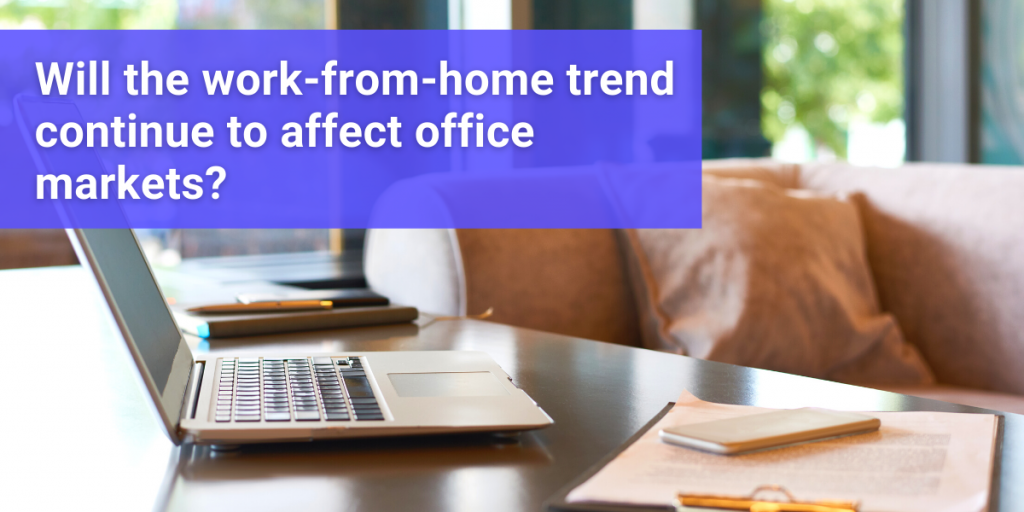 There is no denying that the work-from-home trend that started last year will continue to impact office markets in the years to come. A report from Cushman and Wakefield estimates that the percentage of workers who will shift permanently to the work-from-home setup is 11%. The share of agile workers, or those who will work in the office part-time, will also increase from about a third pre-pandemic to about half post-pandemic. However, the projected creation of 2.3 million office-using jobs across the US in the next two years will help repopulate office buildings.
Still, it is unlikely for vacancy rates to decline soon as tenants remain to be cautious, some tenants are likely to continue evaluating their office needs and whether they will adopt flexible office usage programs.
The work-from-home trend will surely become a significant consideration for many existing and up-and-coming businesses. Not only does the trend provide convenience to the workers, but it also has a range of benefits for businesses, including a substantial cut in expenditures and the lower risks of hampered operations due to unexpected crises or disasters.
While it is still unsure what the future holds for the office markets, one thing is certain: change. The COVID-19 pandemic has compelled businesses to re-assess how they operate, and offices are starting to adapt to the new normal. Building operators were quick to adopt measures to ensure that offices can meet health and safety standards. A previous guide outlines some of the safety tips businesses and office-space owners are employing as they reopen their doors.
The preference for flexibility will surely continue beyond the pandemic. Not all employees are expected to continue with the work-from-home set-up — others would still prefer to work in an office at least a few days a week. This means that office spaces will need to be altered and rebuilt with structures to adhere to physical-distancing protocols. Communal rooms and individual cubicles, for instances, are likely to be expanded to accommodate these workers who are returning to the offices in the months to come.
Companies have started evaluating how they intend to use office spaces in the future. This means that there is no reason for investors to fear the potential death of the office space. Demand for offices will remain — but how should investors prepare?
What should potential office investors do?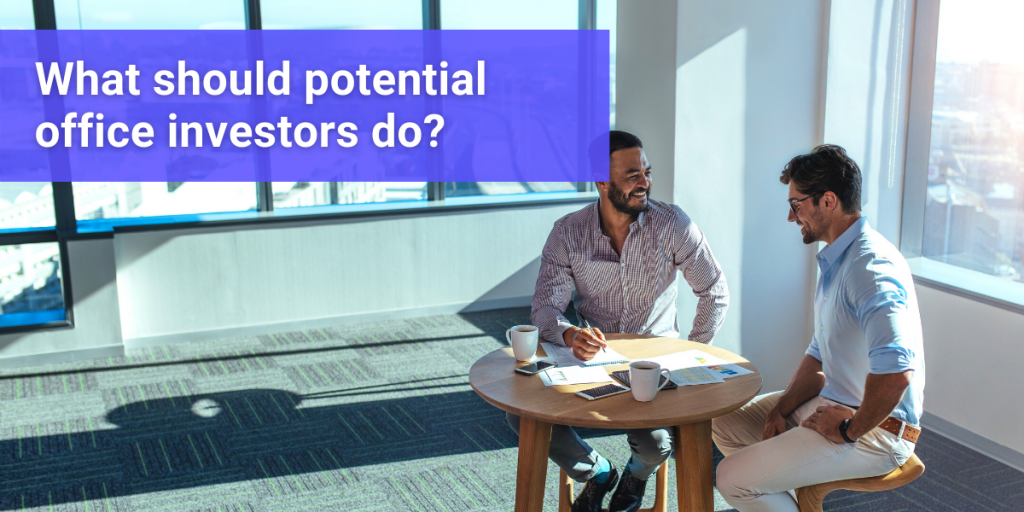 Given the uncertainty that lies ahead of the office markets, it is a must for would-be investors to be in-the-know about the current conditions of the locations they wish to invest into.
One of the ways investors prepare is by using online tools like Smart Capital Center, which can equip investors with an overview of certain office market locations. The tool only requires users to input an address and it will already show key indicators that will help potential investors understand the current conditions of the market.
To help investors, the AI-powered tool gives certain markets a letter-based scores that are based on several factors, including its valuation, location, demographics, decline risks, access to public transit, retail landscape, foot traffic, and business activity.
Furthermore, the tool can also connect potential investors to lenders and provide financing options that can help them kickstart their office investment journey.
When it comes to investing in the property markets, it is a must to get ahead of the game and be knowledgeable about the direction of the market. The office space is a complicated sector to break into, but investors can definitely rely on technology to help them make sound investment decisions. Visit www.smartcapital.center to learn more how AI can help you make that first step to your office investment journey.
Invest with confidence
find the value of any commercial real estate property