January 27, 2023
Webinar: How to Pivot Your Investment Strategies in Today's Volatile Market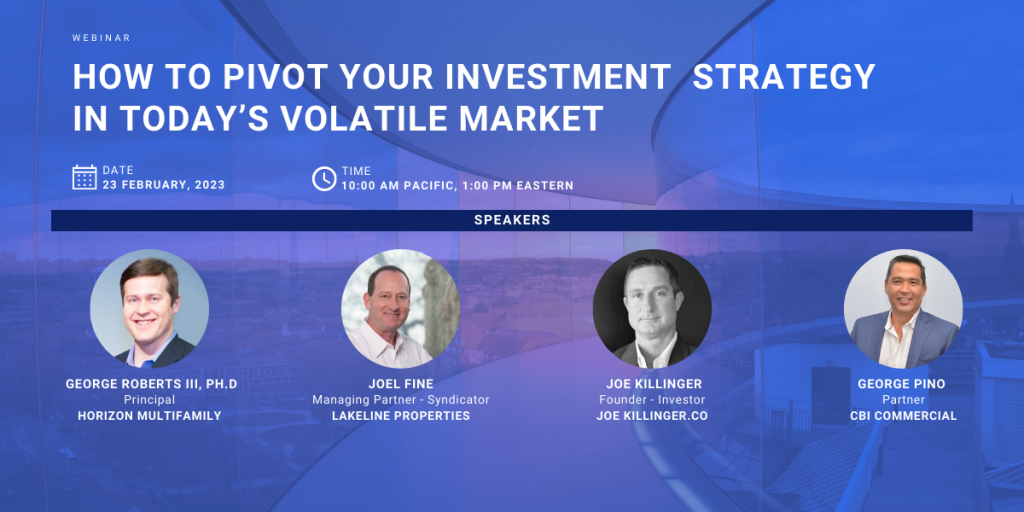 With the changing economic landscape, it's vital for investors to have the knowledge and the proper tools to help them effectively navigate today's volatile market. With interest rates growing rapidly, and experts growing concerns about the impending recession, investors must adjust their acquisition activity in light of these changing market conditions.
Smart Capital Center (SCC) has invited CRE experts to discuss and give insight on strategies for their acquisition and current assets, especially in the current volatile market, in an upcoming webinar, "How to Pivot Your Investment Strategies in Today's Volatile Market." 
Industry experts from Horizon Multifamily, Lakeline Properties, Joe Killinger Co., and CBI Commercial will share their insights on how investors can leverage the market dislocation by strategizing their existing assets/projects to get the highest returns possible.
Learn how to: 
1) Adjust your investment strategy and benefit from market dislocation during this unique time
2) Leverage new technology and data to minimize portfolio risk
3) Improve strategies for 2023 to become better equipped and safeguarded from the current market challenges
Real estate can be highly leveraged to increase returns and diversify risk, and now is the best time for investors to take advantage of current market trends.
Smart Capital Center (SCC) is a leading research and underwriting platform driven by AI that delivers quick, accurate, and affordable real estate property valuations and financing options. SCC powers industry giants such as JLL, Pacific Life Insurance, KeyBank, and investors. 
Join us at "How to Pivot Your Investment Strategies in Today's Volatile Market" on February 23, 2023, at 10:00 AM PST/ 1:00 PM EST.
Invest with confidence
find the value of any commercial real estate property