March 30, 2023
Staying Ahead in Real Estate Investing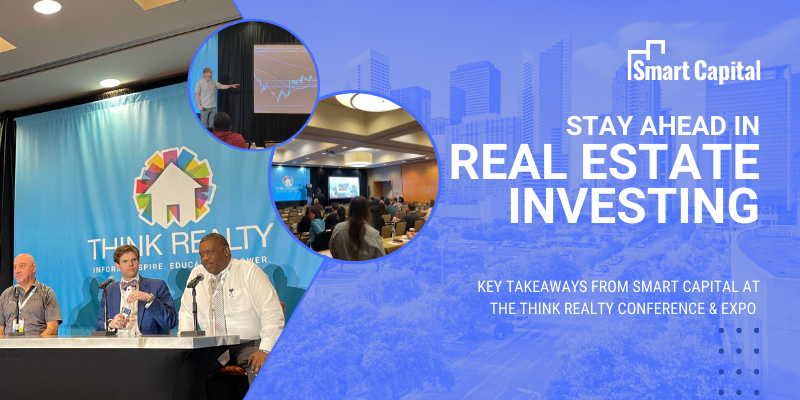 Key Takeaways from Smart Capital at the Think Realty Conference & Expo
Real estate investing is a dynamic industry, and staying ahead of the curve is essential for investors looking to maximize their returns. The recent Think Realty Conference & Expo brought together over 200 elite real estate professionals, industry experts, and thought leaders to discuss the latest trends and strategies in real estate investing.
As one of the participants in the event, Smart Capital has gained valuable insights and takeaways that can help real estate investors make better decisions and maximize their returns. 
In this article, we'll share key takeaways from the event and topics that can benefit real estate investors and property owners. So whether you're a seasoned investor, continue reading to discover how insights from the Think Realty Conference can help you stay ahead in the real estate investment game.
The Think Realty Conference & Expo
The Think Realty Conference & Expo is an annual event that brings together some of the most influential players in the real estate industry. Attendees can participate in two days of networking, learning, and deal-making, gaining valuable insights on the latest trends and strategies in real estate investing. 
The conference offers a unique opportunity for attendees to learn about innovative products, services, and technologies, including Smart Capital's real estate investment analysis platform.
With such a broad range of topics and speakers, this conference is a must-attend event for anyone who wants to stay ahead in the ever-changing real estate industry.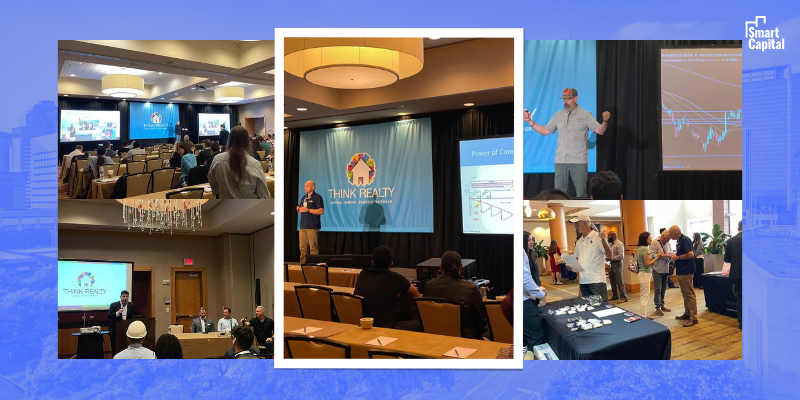 Insights to Help You Invest Smarter
Discover valuable insights from the speakers' discussions covering various topics related to real estate investing, ranging from strategies to identifying opportunities in diverse markets to comprehending real estate arithmetic and determining a property's value.
These highlights will help you invest smartly and make well-informed decisions regarding your real estate investments.
State of The Union: Investing in Texas Real Estate in 2023 with Eddie Gant from Jet Lending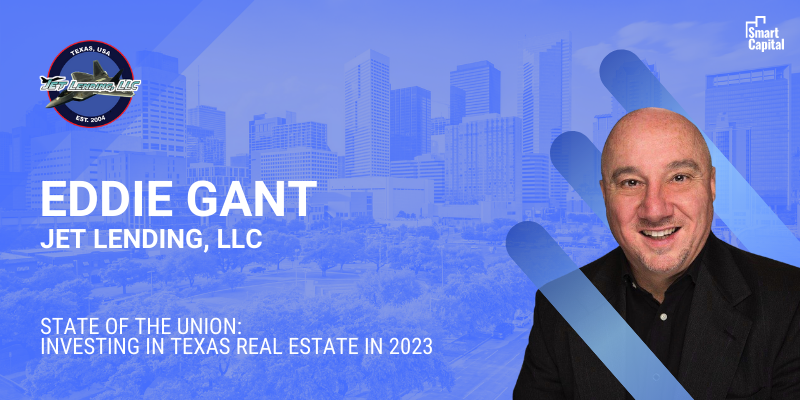 Build a solid system and network. To manage a high volume of properties, develop efficient systems and strong networks that will help you find and handle
Leads are better today than they were a year or two ago due to changes in the market and public perception of real estate sales.
Your exit strategy determines the safety of your investment, whether it's flipping for a quick profit or holding for appreciation.
Focus on high schools. Investing in areas with top-rated high schools can help ensure property appreciation and ease of renting.
There is still a housing shortage in America, which means there will always be demand for housing.
Be fearful when others are greedy, and be greedy when others are fearful. This means taking advantage of opportunities when the market is uncertain, or people are scared.
Don't fall in love with a deal. Instead, fall in love with the numbers. Then, make sure to drive the price down to a level that works for you, whether you plan to hold the property for cash flow or flip it for profit.
Inflation and Interest Rates with Aaron Chapman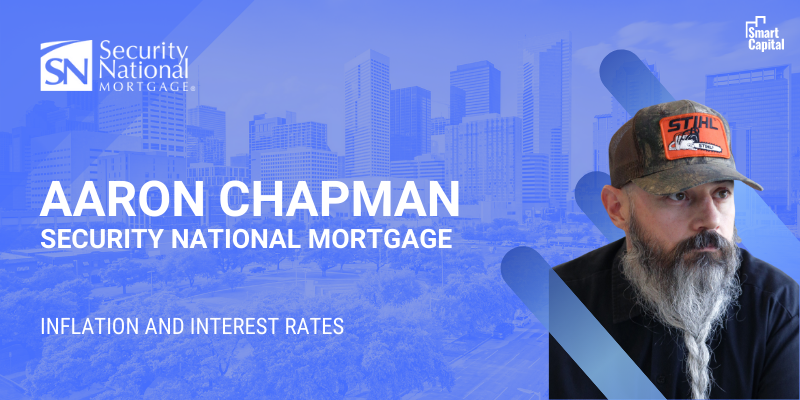 COVID-19 significantly impacted the stock market and interest rates, causing a massive drop in March 2020.
Real estate investors should focus on long-term strategies and not get too caught in interest rate fluctuations. Working with trusted professionals and treating each property as a business is important.
A well-planned investment strategy can yield substantial returns, despite concerns about interest rates and inflation concerns.
Don't rush into an Adjustable Rate Mortgage (ARM). With the potential for interest rates to rise, it may not be the best time to get an ARM. Make an informed decision based on your knowledge of the current market.
Always consult with your team before making major financial decisions: Seek the advice of professionals who have experience in the industry and can guide you in the right direction.
A Panel Discussion on Multifamily Rentals: Providing Stability in a Volatile Market – Powered by Rockstar Capital (Risk Analysis, Asset Protection, and Long-Term Planning)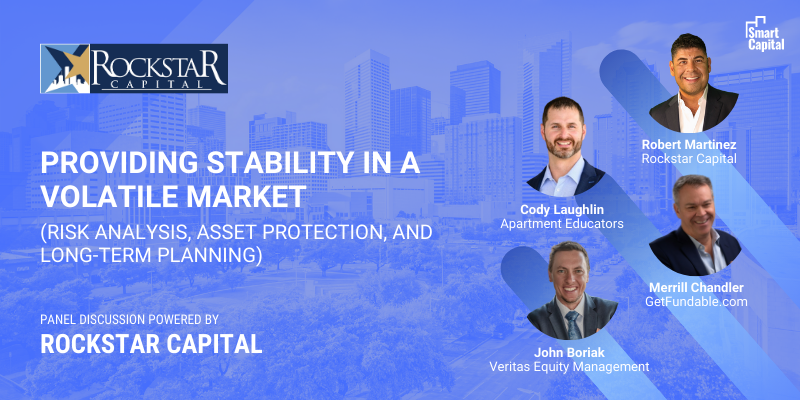 The current market is challenging, and the main focus should be on survival. Focus on preserving deals and operations for the next 12-24 months, as the market is expected to be choppy.
Lenders are more likely to work with borrowers in a position of strength and with sound cash flow. They may consider loan modifications, payment moratoriums, or other adjustments to help borrowers stay in their properties.
In the face of rising costs and decreased affordability, it's essential to be a good operator and focus on providing functional, well-maintained properties to attract and retain renters.
Customer service is key in the rental industry. Focusing on the needs of residents, providing efficient homes, and offering community engagement, especially for children, can help improve tenant retention.
In the current environment, prioritizing non-controllable expenses like taxes and insurance is important. Being proactive and finding ways to mitigate these costs can help operators stay afloat.
A Panel Discussion on Single Family Rentals: Inflation, Changing Interest Rates and Affordability – Powered by RCN Capital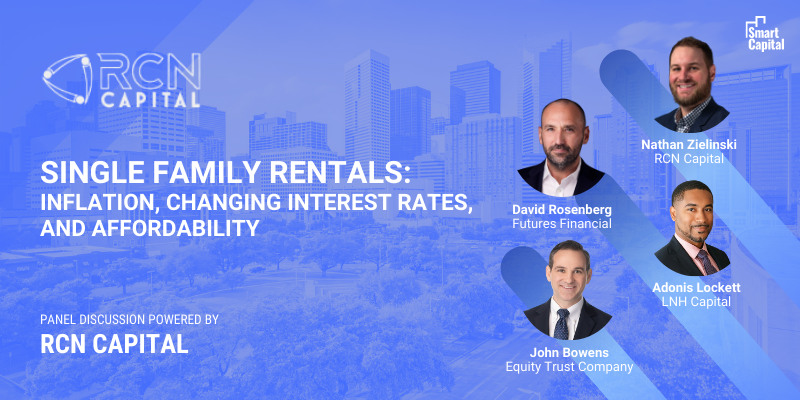 The real estate market has ebbs and flows, so enduring and sticking to your plan is essential for long-term success.
Coaching, training, and education are important in real estate, but it depends on the individual investor and their goals.
When looking for a mentor, find someone in your local market who understands the area and can provide valuable guidance.
In times of market uncertainty, diversification is crucial to staying in business and weathering economic storms.
Always have multiple exit strategies and be prepared to adapt to changing market conditions.
Self-directed IRAs can be a powerful investment tool, allowing investors to grow their wealth tax-free through alternative assets such as real estate.
Opportunities exist in the current market, such as creative financing and working with motivated sellers. However, it's essential to avoid the shiny object syndrome and stay focused on your core strategy.
Elevating Your Investments with the Latest Industry Trends
Along with other market exhibitors showcasing the latest REI tools, products, and services, Smart Capital presented its innovative platform for providing independent and comprehensive property valuations within a few minutes, resulting in faster and more accurate results compared to manual methods. This technology is designed to empower investors to make smarter decisions with unparalleled efficiency and confidence, ultimately reducing investment risks.
Take this opportunity to elevate your real estate investments with Smart Capital and experience the power of faster and more accurate property valuations to make smarter investment decisions.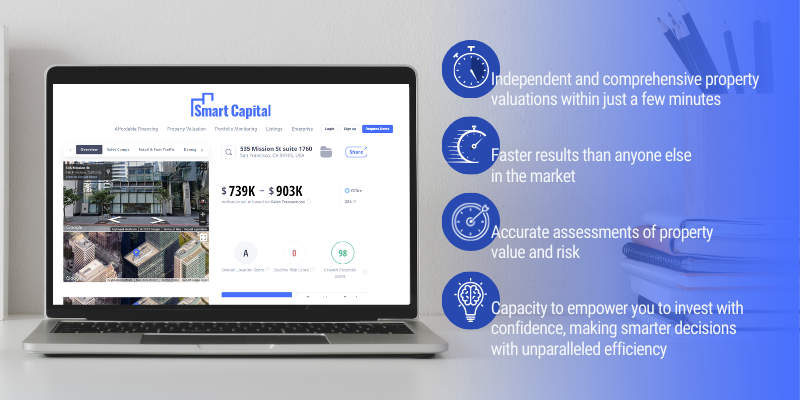 Wrap Up
Think Realty Conference & Expo provided a wealth of insights and strategies for real estate investors looking to stay ahead in the ever-evolving industry. From understanding the current market conditions and trends to implementing innovative technology like Smart Capital's real estate investment analysis platform, staying informed and adaptable is critical to thriving in this dynamic market.
By incorporating the key takeaways from the conference, you can make well-informed decisions and maximize returns in a challenging environment.
The future of real estate investing lies in continuous learning, embracing change, and leveraging new technologies. So, make sure to apply some of these insights to your investment plans and be prepared to thrive in the competitive world of real estate investing.
---
Discover how Smart Capital Center can bring speed and insight to your asset management operations.
or contact us at demo@smartcapitalcenter or +1 (650) 513 – 0963
---
Invest with confidence
find the value of any commercial real estate property