May 3, 2023
Powering Fast, Data-Driven Decision-Making at a Leading US Commercial Lender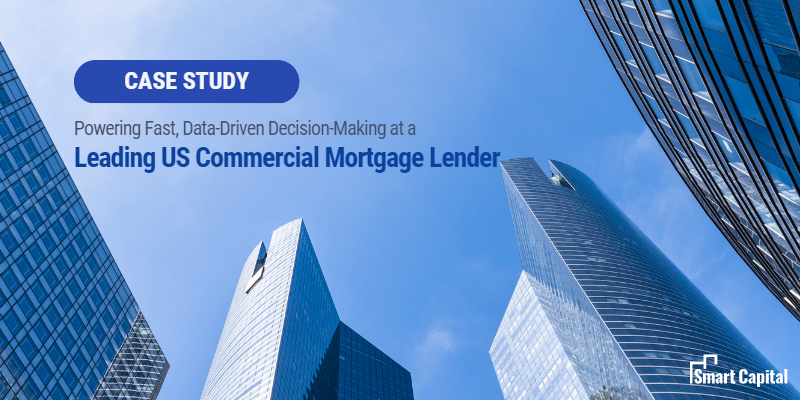 The Client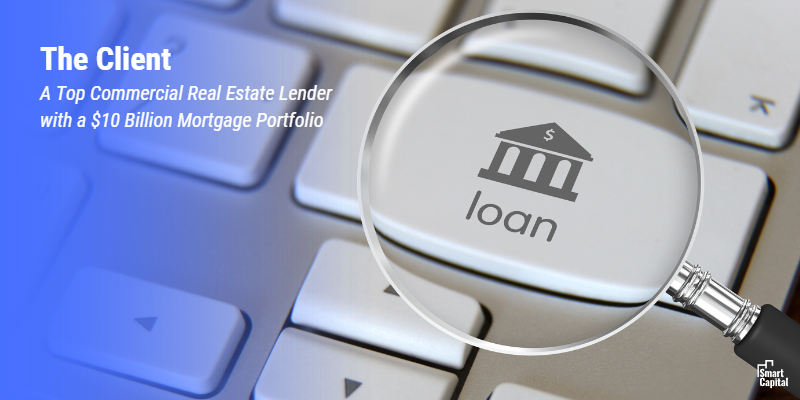 A leading financial institution specializing in structured property financing with $10 billion in commercial real estate loans aims to maximize its growth while controlling risk.
The mortgage lender supports its clients in acquiring large commercial properties, such as office buildings, hotels, shopping centers, logistics, residential properties, and student apartments. Its clients include institutional investors, private equity firms, family offices, financial institutions, private individuals, listed property companies, pension funds, and sector-specific investors.
However, the lender's process of managing its portfolio of loans and monitoring the performance of the collateral required a lot of manual work. Preparing quarterly analyses and credit reports took a lot of time and effort from the credit risk team. Many analyses were not performed due to the significant investment of time required.
The lender turned to Smart Capital to step up its operational efficiency and enhance portfolio transparency.
The Challenge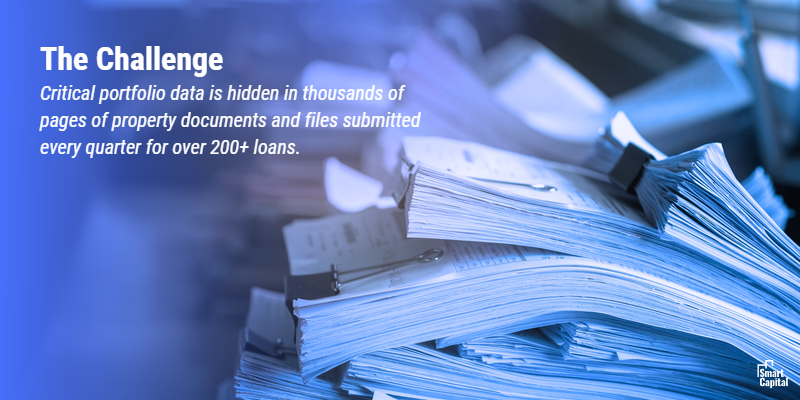 The credit risk team at the mortgage bank receives hundreds of files from its borrowers every quarter. The team needs to review and analyze them to understand the performance of the properties underlying the loans.
Such documents include rent rolls, operating statements, appraisals, and budgets. As there is no standardization within the industry, these documents come in different file types – PDF, scanned files, Excel, and the data is presented in various formats, making it difficult to standardize and automate the process.
Before using Smart Capital, the bank's loan managers processed all borrower and property files manually, which took a lot of time and effort from the team. Moreover, there was a risk that important information could be overlooked as many time-consuming analyses were often omitted due to the prohibitive costs of processing the data.
The Solution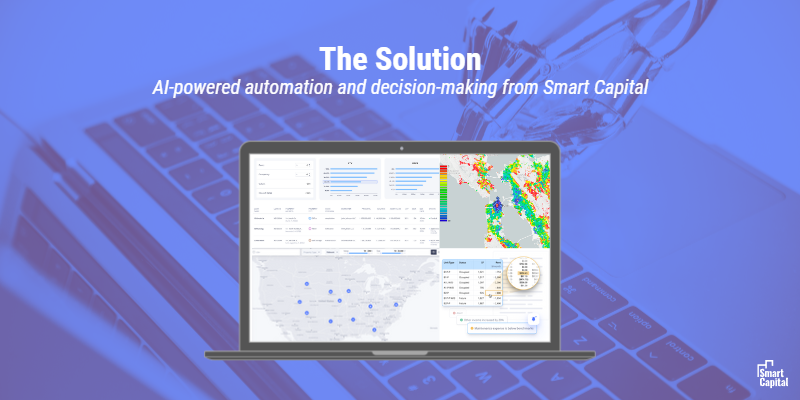 Connecting to Smart Capital's AI-powered automation and decision platform transformed the lender's operations.
Smart Capital's technology extracts data from property financial documents and automatically converts it into standardized formats and lender's chart of accounts. The platform ingests data from documents in any file type – from scanned files, Excel files, or PDF documents, screenshots, etc. After the data is standardized, Smart Capital analyzes it and creates interactive charts and analytics.
Additionally, property financial and operating data is enriched with external metrics related to the property location and local market around it — providing deep property and portfolio insights in real-time.
Smart Capital's Critical Advantages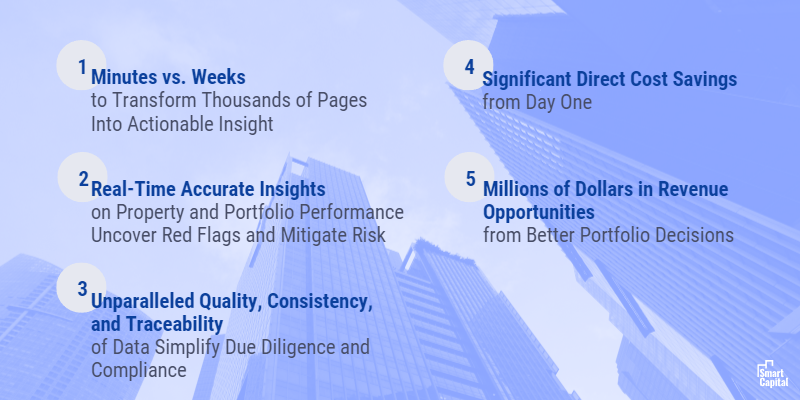 1. Minutes vs. Weeks
to Transform Thousands of Pages into Actionable Insight
By leveraging Smart Capital's technology, the mortgage bank significantly improved processing and analysis of hundreds of documents they receive from borrowers quarterly. What used to be a routine manual and time-consuming process is now an automated, fast workflow enabling asset managers to focus on analyzing trends and risk management, not data entry and basic calculations.
Analysts at the bank simply upload property rent rolls, financial statements, budgets, and similar reporting to Smart Capital, which extracts, standardizes, categorizes, and analyzes data and presents it as an interactive set of dashboards and charts, with insights and alerts.
With routine time-consuming work automated, the bank's asset management team can easily run all required analyses, such as lease rollovers, exposure to certain tenants, rent roll changes, or other critical analyses, with just a click.
Smart Capital delivers real-time access to data, improved efficiency, more intelligent and data-driven analysis, and as a result, enables better risk mitigation.
Insights from the Chief Risk Officer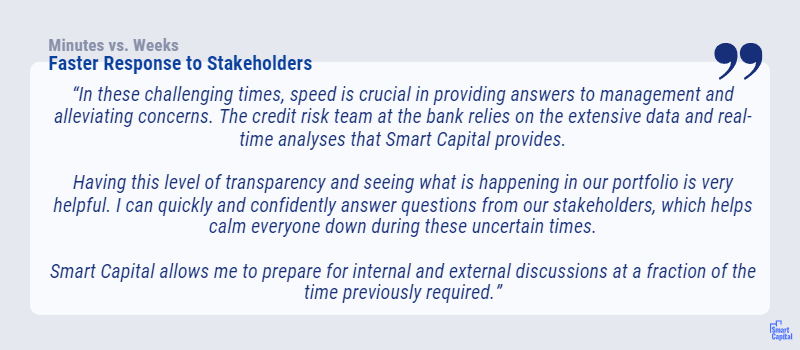 2. Real-Time Accurate Insights
on Property and Portfolio Performance Uncover Red Flags and Mitigate Risk
Smart Capital instantly generates rich analyses on loans and underlying collateral by combining data from all uploaded documents with hundreds of data-points aggregated from external sources.
As a result, loan managers can run comprehensive analyses of their portfolios within seconds — from core analyses such as lease rollover schedule, exposure to certain risky tenants, and automated rent roll comparisons to proprietary risk and opportunity scoring.
For example, if the asset management team expects a potential tenant to go bankrupt, they can see their exposure to this tenant across the entire portfolio and all core lease terms for this tenant — in mere seconds.
Insights from the Bank Associate
Insights from the Chief Risk Officer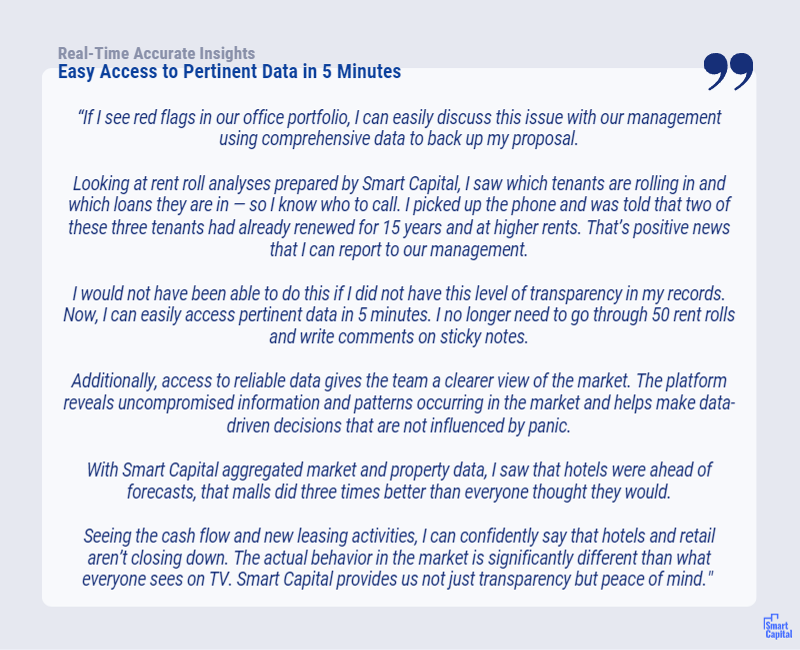 3. Unparalleled Quality, Consistency, and Traceability
of Data Simplify Due Diligence and Compliance 
Analyzing thousands of financial documents and maintaining accuracy can be challenging, but resolving data inconsistencies is no longer an issue for the tech-powered mortgage lender.
Smart Capital detects anomalies, outliers, and red flags in property financial documents through its comprehensive system of warnings and automated reconciliations. Additionally, every data-point is connected to the source document and users can see where it came from with just a click.
As a result, the bank's loan managers are now more confident in their decision-making due to the platform's ability to process data with great precision and traceability of each data-point.
4. Significant Direct Cost Savings
from Day One
With many manual tasks fully automated and digitized, the mortgage lender no longer needs to hire additional loan managers to monitor its growing loan portfolio.
With Smart Capital, the bank attained significant direct cost savings from day one. As technology continues to be integrated into the financial institution's workflows, their savings will continue to multiply.
Insights from the Bank Associate

5. Millions of Dollars in Revenue Opportunities
from Better Portfolio Decisions
The ultra-fast access to granular data enables the asset managers to react quickly to adverse events and identify opportunities in their portfolio.
Smart Capital powers fast intelligent decision-making, preventing losses and maximizing returns.
Insights from the Chief Risk Officer
With Smart Capital, the lender was able to adjust to growing demands from its stakeholders for faster, more frequent portfolio analyses and deeper insight – without hiring additional staff.

The Results
By automating time-consuming tasks, the financial institution continues to grow its lending business and provide superior service to its stakeholders – with fewer resources.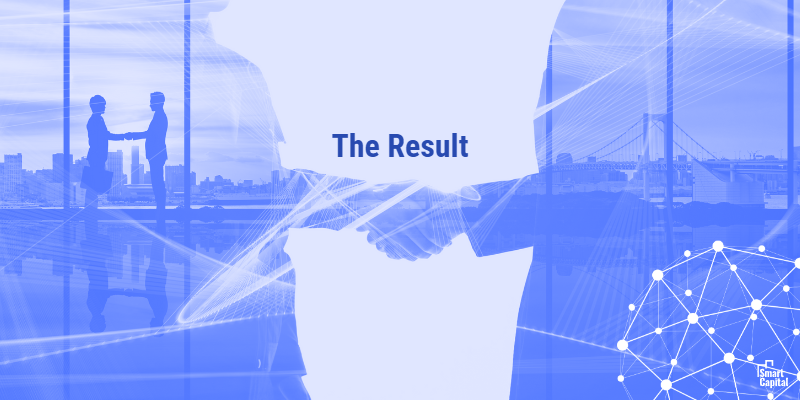 As Smart Capital and the mortgage bank collaborated to implement solutions that aligned with the bank's primary objectives, the strategic partnership's impact on the lender's asset management operations became increasingly profound.
By leveraging technology solutions from Smart Capital, loan managers could say goodbye to manual and paper-heavy mortgage loan workflows, resulting in significant cost savings and improved decision-making.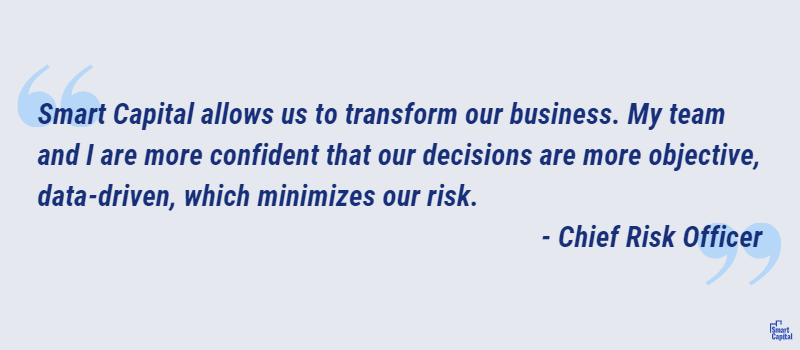 With real-time access to comprehensive, digitalized portfolio data and insight, the bank can swiftly react to changing market conditions and ensure top returns for its stakeholders.
---
To stay competitive, financial institutions will have to embrace digital innovation, including AI-powered automation and decision-making platforms, to meet clients' ever-evolving demands.
By leveraging strategic technology partnerships, mortgage lenders and asset managers can become more customer-centric and reduce the human-technology divide.
This will create resiliency and unique opportunities for lenders and asset managers to thrive in the new era of automation and AI.
---
Discover how Smart Capital can bring speed, enhance insight, and cut cost of asset management operations. 🚀
Contact us at demo@smartcapitalcenter or +1 (650) 513 – 0963
Invest with confidence
find the value of any commercial real estate property