June 22, 2023
Empowering Apartment Owners to Dream Bigger and Invest Smarter: Apartmentalize 2023 Recap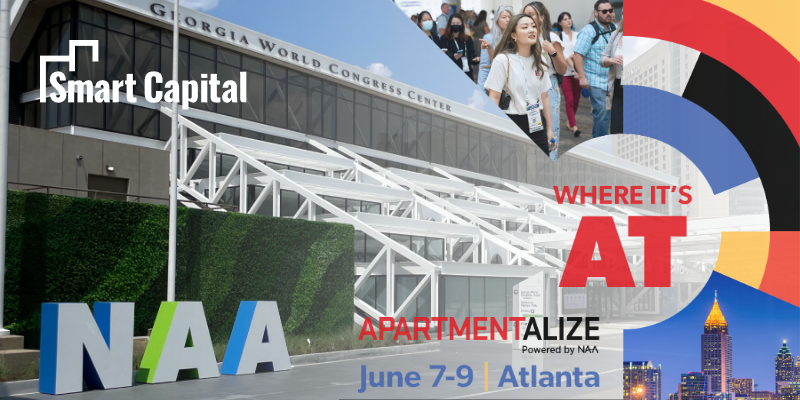 Smart Capital Team recently showcased its AI-powered platform at Apartmentalize 2023, a premier event held in Atlanta for the rental housing industry. This significant gathering serves as a global melting pot for property owners, real estate enthusiasts, and investors, providing a platform to exchange ideas, explore trends, and understand the industry's future landscape.
In this three-day event, we demonstrated the transformative potential of our platform. We shed light on the role of Artificial Intelligence, particularly ChatGPT, in the decision-making process in multifamily investing.
Designed to empower small investors and property owners, our platform dramatically speeds up underwriting, enhances property insight, and cuts transaction costs.
We were also keen to showcase that AI, specifically ChatGPT, is not an industry disruptor but a powerful ally in our industry.
Our participation at Apartmentalize 2023 was a significant step in our ongoing journey to help mutlifamily investors dream bigger and invest smarter.
Turning Challenges into Opportunities
Investing in the multifamily sector is not without its challenges. There are numerous hurdles that even the most seasoned investors can face, hindering their ability to optimize their portfolios for maximum returns. However, during our recent participation at Apartmentalize 2023, we demonstrated how Smart Capital provides a strategic roadmap to overcome these challenges and seize opportunities in the market.
Challenges in Multifamily Investing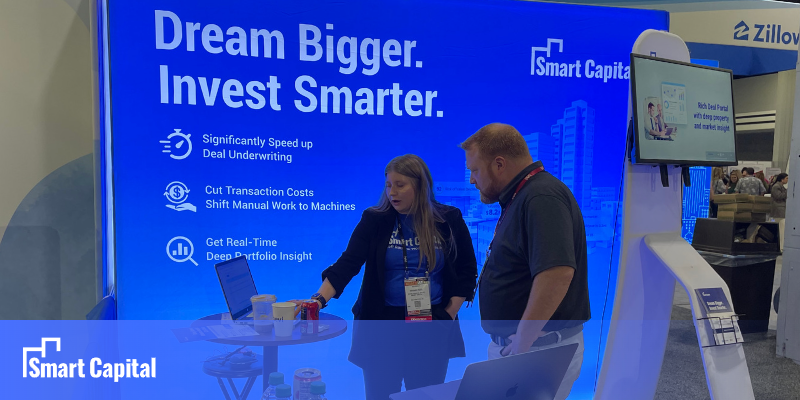 Challenge 1: Time-Intensive Property Valuation and Deal Underwriting
Real estate investing, and multifamily investing in particular, requires a considerable amount of due diligence. Property valuation and deal underwriting are time-consuming processes, which can make or break the profitability of an investment. This can be incredibly overwhelming, especially for new apartment owners who are unfamiliar with the process.
At Smart Capital, we've transformed property valuation and deal underwriting with our platform. We offer ultra-fast services, allowing investors to evaluate potential deals quickly and accurately.
By being fast and informed puts our investors in a strong position to secure the best deals in the market. And having comprehensive data at their fingertips empowers them to negotiate with confidence, knowing they are making a smart investment decision based on analytics.
Moreover, understanding a property's cash flow potential and its projected value in the coming years is critical for any real estate investment. Our platform provides this crucial insight, enabling multifamily investors to have a well-rounded view of their investment trajectory.
This streamlined approach significantly reduces the time investors spend on due diligence, allowing them to concentrate on other strategic aspects of their investment. Through our platform, we ensure that no time is wasted, and every decision is data-backed and strategic.
Challenge 2: Identifying Suitable Capital Options
The world of multifamily investing is abundant with capital options, each with its unique attributes and potential pitfalls. With an array of options available, making the right choice can be perplexing and risky without adequate advice and guidance.
This is where Smart Capital comes in
Our seasoned team is always ready to guide investors towards the most suitable capital options for their deals. We offer this advisory service free of charge, underscoring our commitment to empowering our clients with the knowledge and tools they need to make well-informed decisions. By minimizing financial uncertainty, we pave the way for a more profitable return on investment.
But we go beyond merely pointing out the best financing options. We dive deeper to help investors grasp the nuances of various loan terms that are often overlooked but can significantly influence a deal's profitability. These include details such as s pre-payment penalties, lender flexibility, reporting requirements, covenants, and other restrictions.
By providing a comprehensive understanding of these aspects, we help apartment owner find the right lender and lending program tailored to the investor's unique situation.
We prepare comprehensive lender packages that present investment opportunities in meticulous detail to make the lending process faster.
These packages present all relevant information to the lender in a way that highlights opportunities and alleviates potential concerns. By reducing the lender's perceived risk through clear, detailed information, we pave the way for faster financing processes and more favorable loan terms.
And we don't stop at guidance. We also provide low-cost transaction support, an extensive network of 1,000+ lenders, and bank-quality property underwriting, aiming to cut financing costs and make the investment process as seamless and efficient as possible.
This lessens the financial strain associated with deal-making, providing our clients with an edge in the competitive multifamily investing market.
Challenge 3: Sourcing Quality Deals
Multifamily investing often entails wading through a sea of potential deals – over a hundred in some cases—to find that one golden investment. This process, in essence, translates into more than a hundred underwriting projects, each requiring significant time, resources, and expertise. 
In such a scenario, identifying profitable deals that align with an investor's unique criteria becomes a monumental task, Smart Capital offers a strategic solution to this challenge.
One of Smart Capital's core features is deal sourcing. We take into account each investor's unique criteria and only present them with deals that meet their specific needs. This way, our clients avoid wasting their time on unprofitable deals and can concentrate their resources on promising opportunities.
This targeted approach saves our clients from the tedious and costly process of examining unsuitable deals, freeing up their resources to concentrate on promising, profitable opportunities.
We recognize the complexities of multifamily investing and are dedicated to helping our clients navigate these challenges efficiently. By pairing our innovative solutions with the unique needs of each investor, we are creating a new way of multifamily investing that is efficient, profitable, and accessible. It's a game-changer in the multifamily market, and we're proud to lead the way.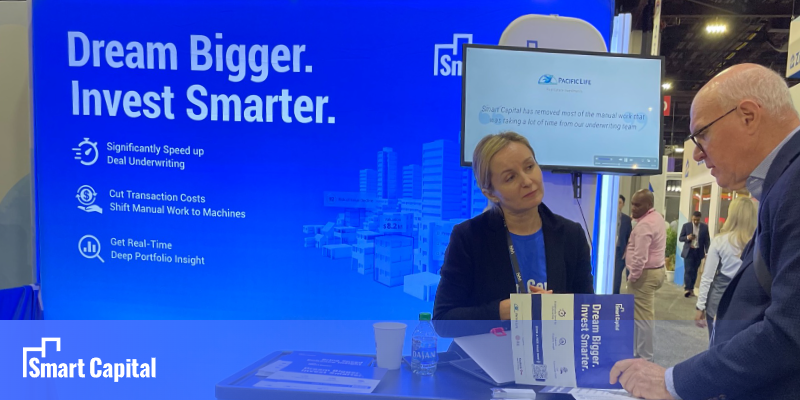 Smart Capital's Special Session: ChatGPT Applications in Multifamily Investing
The session kicked off with an introduction to the significant role that ChatGPT-4 plays in market analysis, underscoring the potential of AI to streamline and enhance this vital aspect of real estate investing.
But the session wasn't just about showcasing the capabilities of ChatGPT-4. The main event was the introduction of our newest product—Smart Capital+.
Leveraging the power of ChatGPT-4 assisted with the market analysis template developed by Smart Capital, Smart Capital+  transforms financial document analysis in real estate investing. This integration provides a comprehensive market overview within minutes, even for smaller tertiary markets. 
The magic of Smart Capital+ lies in its ability to dissect complex financial documents such as lease agreements, insurance agreements, and loan documents. With this capability, Smart Capital+ is set to be a game-changer in the industry.
Investors no longer need to hire an analyst or master coding. Instead, they can simply ask their data-related questions in common language. The AI then interprets the questions into tasks, executes them, and generates answers, all using standardized data.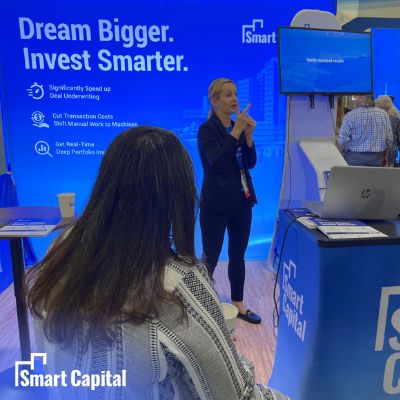 This user-friendly, time-saving approach to data analysis offered by Smart Capital+ marks a new era in the multifamily investing landscape. Investors now have the opportunity to make smarter decisions, drive better returns, and navigate the multifamily investing landscape with ease and confidence.
Diving Into Discussions
Apartmentalize 2023 event was a learning hub, offering rich and diverse insights into the ever-evolving world of multifamily investing. An impressive range of topics was covered during the discussions, including affordable housing, disaster/crisis/emergency preparedness, executive topics like succession planning and asset management, hybrid workplace culture, industry trends, operations, and technology.
Here are some key takeaways that resonated with the Smart Capital team:
Embracing Technology for Enhanced Experiences
Embracing advanced technologies, including smart home automation and AI-powered property management systems, was another focal point during the event.
Educational tracks revolved around adopting AI to strengthen property operations, with a strong emphasis on enhancing resident experiences and safety. The event also touched on the importance of centralized data and strong connectivity infrastructure in today's digital age.
Striving for Sustainability
A sustainable approach to property management was another theme at the event. The industry's commitment to sustainability is strong, but balancing cost-effectiveness and ROI is the key challenge.
Attendees gained insights into innovative practices that promote eco-friendly living, reduce carbon footprints, and lower utility costs, all while remaining financially viable.
Addressing Industry Challenges
The event also served as a platform to discuss pressing challenges facing property management professionals, including skilled labor shortages, handling aggressive renters, and eviction situations. The discussions underscored the need for open communication channels, mental health resources, and comprehensive employee assistance/training programs.
These insights, captured by the Smart Capital team at the event, underline our commitment to innovation, sustainability, and serving the needs of diverse communities. They will undoubtedly help us navigate the evolving multifamily landscape and empower our users with the best platform in multifamily investing.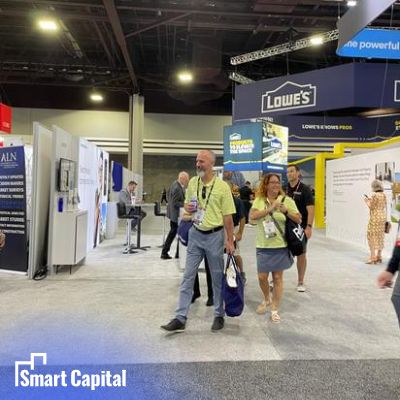 Wrapping Up 
Our presence at Apartmentalize 2023 was not merely an opportunity to showcase Smart Capital's capabilities. It was a stage for us to demonstrate how we're using AI technology to influence the future of multifamily investing.
We showcased how our platform drastically speeds up underwriting, enhances property insights, and cuts transaction costs, positioning us as a powerful ally for investors and property owners in the real estate sector.
The highlight of our participation was the special session dedicated to the introduction of Smart Capital+. The session sparked considerable interest, with over 100 attendees signing up, eager to explore the transformative power of integrating AI into every step of a real estate transaction – – from deal sourcing and underwriting to financing and loan management post-acquisition.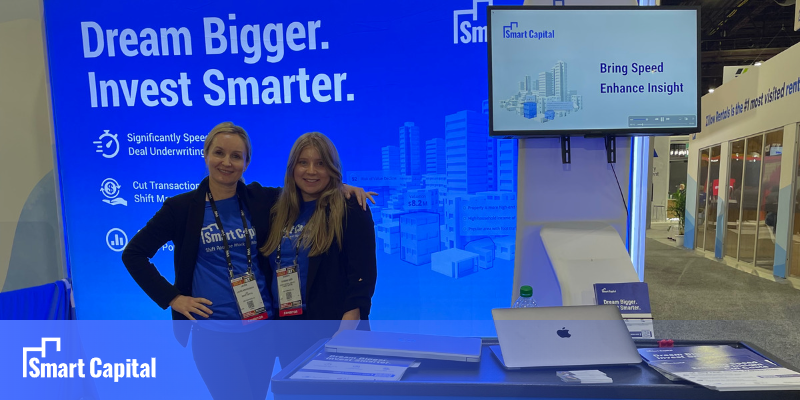 As we step into the future, our focus remains clear. We are committed to harnessing the power of AI to turn the challenges in the multifamily investing sector into opportunities. We will continue to enable investors to make smarter decisions and drive better returns.
The journey has just begun, and we invite you to join us as we redefine multifamily investing. We are excited about what lies ahead and the many ways we can contribute to shaping the future of this vibrant industry.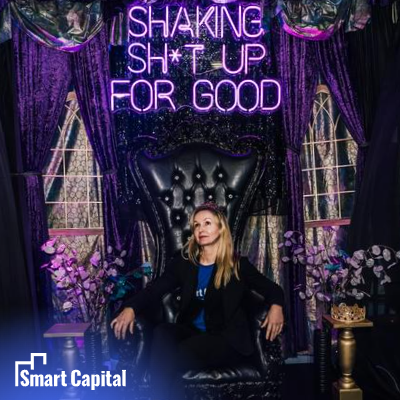 We are grateful for your engagement during the conference and look forward to continuing the conversation. Schedule a Zoom meeting with us here.
---
Discover how Smart Capital Center can drive speed, enhanced insight, and cut costs for any real estate transaction. 🚀🚀🚀
or contact us at demo@smartcapital.center or +1 (650) 513 – 0963
---
Smart Capital is the world's first real-time valuation and mortgage platform. It empowers real estate investors with institutional-grade insight, unbiased investment analysis, ultra-fast property valuation & deal underwriting, low-cost transaction support, free portfolio monitoring, and capital to enable smart investment decisions and fast dealmaking.
Invest with confidence
find the value of any commercial real estate property