July 7, 2020
Make Your Money Work: Investor Strategies in Commercial Real Estate Post COVID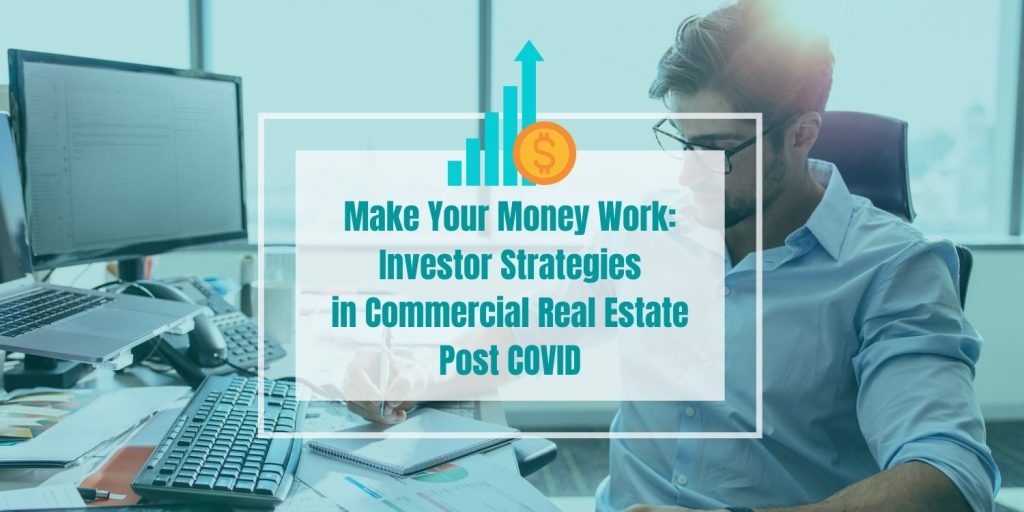 Depressed property prices that accompany a recession may elicit a certain degree of apprehension in investors, while some look at it as an opportunity to acquire properties below their market value and a potentially promising future ROI.
Commercial real estate prices have been affected by past economic downturns but have proved resilient and recovered from such events, though at varying speed. The pandemic has certainly had an immediate impact on the industry though experts say it is too soon to tell the full extent of its effect. As an investor, there are strategies you can deploy in order to "pandemic-proof" your investments.
Below are some strategies by investors in the retail, office and multifamily space.
CRE Investing in Times of Duress: Reimagine, Repurpose, Rezone, Renovate
If you're keen on investing and you have the funds to hold the property for the long-term or invest in its transformation, you have to do your due diligence. Simply having the funds is not enough, though securing it is certainly an important step. Evaluate the property, see how much it is worth and the potential earnings you can get from your investment.
Due to the pandemic, crossing state lines may be difficult and hinder you from doing an on-site inspection of the property. There are a number of ways you can utilize to gather intelligence about a property without leaving the comfort and relative safety of your own home or office.
There are online platforms available, including Smart Capital Center, that allow you to simply input the address of the property you're interested in and will provide real-time valuation of the property and give you access to a multitude of hyper-local data, such as foot traffic, proximity to major highways, quality of public transit, demographic and business data, to name just a few. For a more detailed financial and operating analysis of the property, you can order a separate bank-quality valuation report for any property of interest.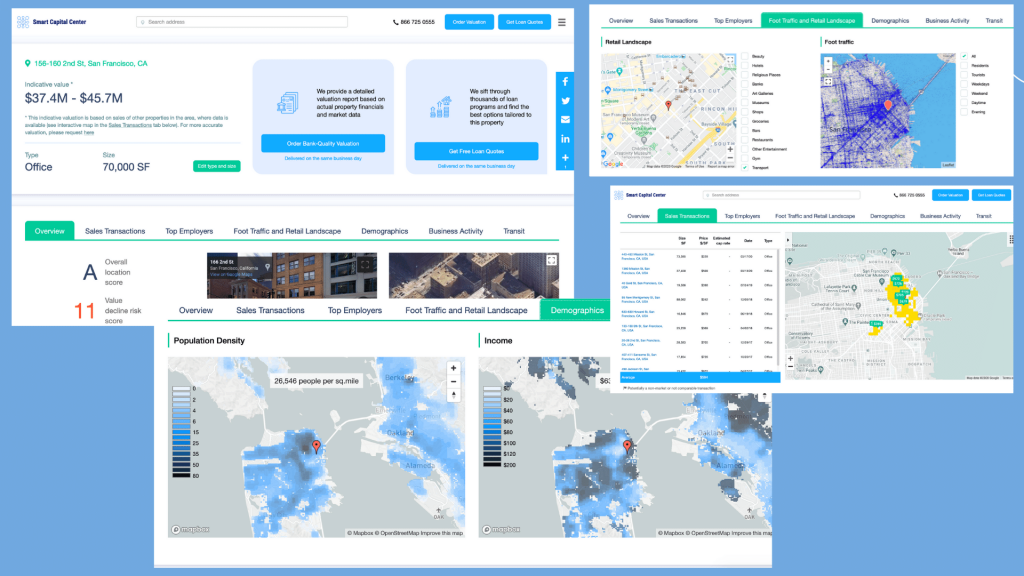 Analytics is a big part of investment and you should leverage technology to get you the information you need in order to ensure that you are adequately prepared and that you understand the risks and the benefits involved in your venture.
When the old systems don't work as well, it's time to get creative and look at things with fresh eyes. Look beyond the property and see it for its potential. This doesn't mean you look at potential investments with rose-colored glasses: this is simply a call to be informed, be aware, and be open to change. Know your market and don't skimp on the groundwork.
Retail Real Estate Investments
The pandemic has certainly battered the retail sector. For some brick and mortar stores already struggling in the face of changing times and the advent of e-retail, COVID-19 proved to be the straw that broke the camel's back.
Retailers have confirmed that at least 4,600 stores are shutting down in the U.S., Business Insider said in a June 29 report. Those numbers are expected to climb higher as the year drags on. Despite this, however, it seems that there are still investors who are showing interest in retail properties.
Landlords are finding new ways to repurpose their investment. In Wichita Falls, Texas, for example, a property owner is seeking to rezone the site where a Pier 1 Imports store has stood since 1992. Pier 1 had filed for Chapter 11 bankruptcy protection earlier in the year and then later announced that it was closing down all of its 540 stores.
Property owner Theodore Pantos reached out to the city staff on March 16 seeking to remodel the 9,000-square foot facility and turn it into a multi-tenant shopping center that would have drive-through services, according to a report by Times Record News. Pantos said he couldn't find a tenant for a property of that size but that he did receive several inquiries about utilizing a portion of the space, the report said. The property's current zoning does not allow multi-tenant commercial facilities, thus the request.
Smart Capital Center's Dennis Patrick, SVP of Capital Markets, has noted that builders are looking at retail centers where the anchor tenant has left. Anchor tenants are usually established businesses that draw a lot of foot traffic, such as grocery stores. Without a strong draw, other tenants in the space also lose out on potential walk-in customers, and rent decreases along with property value.
Investors are looking to convert these spaces. Into housing or live/work spaces. But these are long term plans and they have the capital to wait out the market and hold these properties for a while, Patrick said.
There are also investors looking to transform retail spaces into industrial-focused properties such as warehouses or fulfillment centers. As more and more people turn to e-retail, the demand for such spaces are expected to increase.
Office Investments
Speculations abound regarding the future of office spaces. There are those who believe that since companies realize allowing their employees to work remotely is a viable option, businesses will lessen their real estate footprint and migrate most of their employees to work-from-home setups.
Another emerging area of thought however is that reimagining the office space is the way to the future.
The Center for Disease Control released guidance for businesses and employers to follow before resuming operations. Crowded office spaces that are densely packed and bustling with activity are no longer acceptable in a post-COVID world preoccupied with rates of infections and how to keep it low.
Pandemic-proofing office spaces is essential. Redesigning them to increase space between workers, installing technology that would help minimize interaction with possible contaminated surfaces like elevator buttons and door handles, are some of the ideas being thrown around.
WeWork for example has laid out the steps it plans to take in repurposing certain areas of office spaces in order to keep employees safe and adhere to the regulation of maintaining at least six feet of distance between people. The co-working space provider said it plans to keep its members safe by rethinking the use of common spaces and reconfiguring lounges and meeting rooms "to offer more space between people." Seating arrangements previously meant for four "will become one- or two-person setups. And work nooks will be limited to one person per booth." More space between employees may lead to an increase in a company's office footprint and may keep demand for office spaces from plummeting.
Though there are those who have a bearish outlook about the future of office/co-working spaces, there are also those who insist that they should not be discounted as of yet, noting that flexible spaces, or the real estate as a service model, will adapt to the changing times. StoneSoup, another flexible space provider, says the industry will emerge stronger from COVID-19, citing the rise in independent work and the need for flexible leases, among other things.
Indeed, the work-from-home model is here to stay and more businesses will embrace this shift moving forward. However, there will always be companies that need staff in their offices, albeit a skeleton crew. There will also be employees who would prefer a more flexible arrangement – a combination of working from home for most of the week and working from the office for a couple of days. The traditional office set up may then emerge post-pandemic into a model more similar to those of consulting companies and coworking spaces.
A recent research report by JLL noted that an increase in remote work does not necessarily equate less demand. There will always be people who would prefer to work in spaces dedicated for work either because their homes cannot accommodate it/are not conducive to such activity, or simply due to preference/need.
"There will be an inevitable correction in the short term as the economic impact of the pandemic flows through to corporate activity. However, over the longer term the office will remain a fundamental part of our corporate culture and will play an essential role in our work and productivity," the report said.
As an investor, keep looking at the trends. What are the technologies you can incorporate into the layout to make it more attractive and safer for workers? Is the space versatile enough to accommodate changes? Look at the lay of the land. What are the major employers in the area? Look at the rate of job growth. Is the area dominated by one or two business sectors and how has the pandemic affected the market? Do your due diligence and gather information before you decide on a course of action.
For more insight, see our analysis on the areas with the least and most risk exposure during the pandemic.
Multifamily Real Estate Investments
The pandemic has affected the multifamily sector in the short-term but for the longer-term it is too soon to tell exactly how much of an imprint it will leave. There is always going to be a demand for living spaces, however, and Smart Capital Center's Dennis Patrick says multifamily will become even more attractive as a real estate investment asset class going forward.
CBRE in a market outlook report released in April also took note of the pandemic's effects on multifamily investments, with rent declines expected through 2020 and vacancy expected to reach 6.3% in the third quarter. However, CBRE added that "vacancy should begin to decrease in Q4 2020 and return to its former low levels by Q3 2021—a relatively rapid recovery phase… [while] a healthy rebound in rents is expected through 2021. Rents should reach their pre-coronavirus level by Q2 2022."
The most recent result of the National Multifamily Housing Council's Rent Payment Tracker, which surveys 11.1 million of professionally managed apartment units across the U.S., found that 94.2% of apartment households made a full or partial rent payment by June 27, down 0.5% from the year-ago period and up nearly 1% month on month. This means that for the month of June, there is virtually no change between the percentage of tenants able to make their rent payments prior to and during the pandemic. Multifamily properties are generally less exposed to volatility and between the asset classes offers the least chance of yielding negative rents. The fact is, people will always need a place to live and multifamily properties aren't going anywhere.
"The multifamily properties to focus on are those that cater to the mid- to high-income earners, as there is less chance of default on payments for such properties", says Dennis Patrick from Smart Capital Center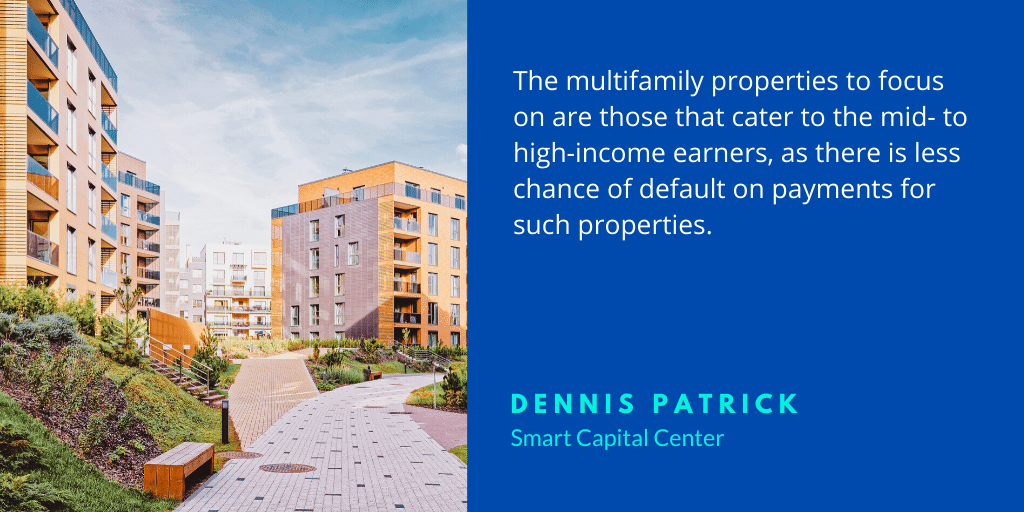 "The properties to focus on are those that cater to the mid- to high-income earners," Dennis Patrick says, as there is less chance of default on payments for such properties. "The size of units, amenities offered, the length of commute are also factors that should be looked into when deciding on your investment."
Moody's Victor Calanog, when talking about the pandemic and the future of multifamily, notes that though the pandemic has slowed down a variety of constructions, it is not likely to result in "widespread demolitions of existing stock." Instead, he states that the effect will be focused on the "qualitative nature of demand." Landlords and potential investors will need to think about their properties and the utilization of space. Tenants' needs and desires in terms of living spaces are likely to evolve. Shared-spaces will also need to be reconceptualized and reconfigured to accommodate new demand in the post-COVID world.
Strong demand for multifamily will continue but investors must be cognizant of certain factors that would impact that demand as it will not be uniform across the board. Look at factors such as location, proximity to hospitals and schools, as well as the median income in the area, and the jobs available.
For further insight, see our analysis on factors affecting the valuation of your multifamily investment or read about the ways to maximize its value.
Conclusion
A number of retail spaces are being left vacant but are finding new purpose as investors look at new ways to utilize the property. The future of office spaces is currently up in the air, but their investment viability as an asset class cannot be fully discounted as businesses try to negotiate what work and workspaces mean in a post-COVID world. As for multifamily properties, strong underlying demand makes entry into the sector an attractive proposition.
When thinking about investing in property, one must be prepared to do the work. The future of investment is about analytics, technology, and data. Due diligence can spell the difference between profit and loss.
We at Smart Capital Center provide real-time property valuations and source the best loans for commercial real estate investors from our pool of over 1,000 lenders. Get free property and market information instantly by just entering your property address at www.SmartCapital.Center Also, you can order our comprehensive bank-quality valuation report delivered in under 24 hours.
Get free analysis of best financing options selected from our pool of 1,000+ of loan programs for new acquisitions or refinancing – visit www.SmartCapital.Center
Invest with confidence
find the value of any commercial real estate property