March 10, 2023
Tips on Adjusting Your Investment Strategy in Uncertain Times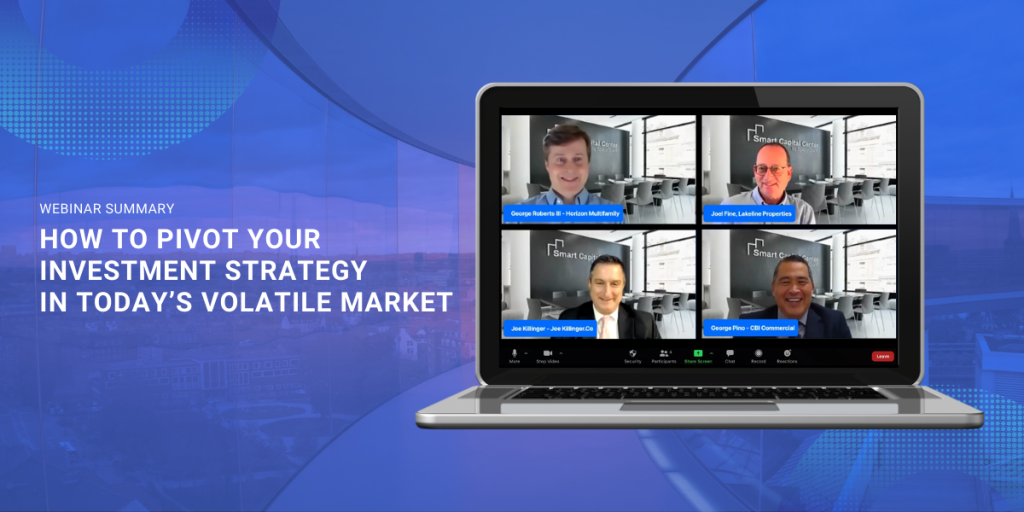 Investing in today's volatile market can be daunting, with the ever-changing economic landscape and unpredictable fluctuations in the stock market. To help investors navigate this uncertainty, Smart Capital Center (SCC) hosted a webinar titled How to Pivot Your Investment Strategy in Today's Volatile Market last February 23.
In this article, we will provide a summary of the SCC webinar by highlighting the key takeaways, expert insights from the SCC speakers,  and practical applications of the discussed tips and strategies. This will enable you to adapt your investment strategy during uncertain times and increase your confidence in making informed investment decisions.
About The Webinar
How to Pivot Your Investment Strategy in Today's Volatile Market Webinar aims to provide practical ways for investors to adjust their investment approach to better handle market volatility and minimize risk.
This webinar was hosted by SCC's Senior Financial Analyst, Hannah Kidd, and featured several industry experts.

What are the current trends and major concerns in Commercial Real Estate (CRE)?
Staying informed about the current trends and challenges in the CRE market can aid in making informed decisions and developing effective strategies to navigate the constantly evolving landscape.
Below are the speakers' insights into the latest developments and major concerns investors and industry experts face in the CRE market.
Retail has surprisingly been performing well, with increasing inquiries from people looking to expand or start new locations.
Interest rates remain one of the major concerns for investors. The markets in Kentucky and Tennessee are particularly attractive due to their low to median rent-to-income ratio, which can be a main driver of migration.
Another primary concern in the market is the difference in pricing expectations between sellers and investors. There is a growing gap between what sellers expect for their properties and what investors are willing to pay.
It also highlighted two phenomena that investors and developers must be on the lookout for (1) the twin threats of inflation and increasing interest rates and (2) long-term migration trends from the north to the south part of the United States.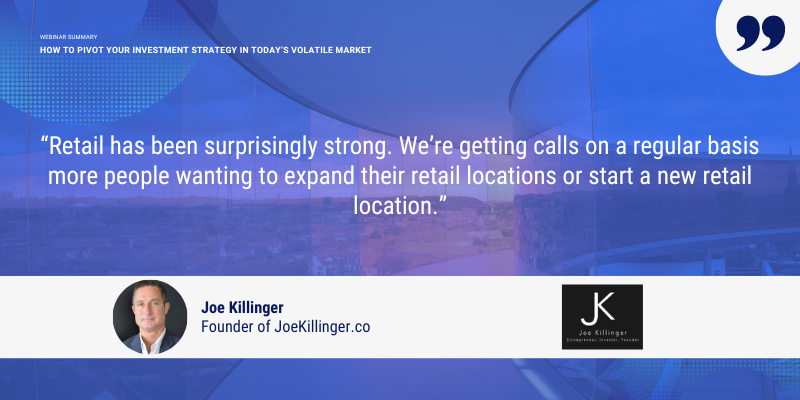 What property types do you expect to be more recession-resistant in the next two to three years?
Resilience is a key trait that investors and developers look for in CRE properties, particularly in times of economic uncertainty. To shed light on this subject, the speakers shared their insights on the property types more likely to weather the storm in a recession, which include the following:
Multifamily residential
Single-tenant retail properties
Self-storage Facilities
Senior living properties
Memory Care and Medical Facilities
Do you see people sticking to core asset classes or venturing into less conventional ones?
In addition to providing insights on promising property types for the next few years, the speakers also emphasized the importance of anticipating a potential "COVID Rebound." According to Joel Fine, this refers to a phenomenon where people may revert to their pre-pandemic habits and behaviors.
For instance, there may be a resurgence in employees working from offices and customers preferring to shop in physical stores rather than online. These changes could have implications for investment strategies, highlighting the need to remain vigilant and adaptable in response to shifting trends.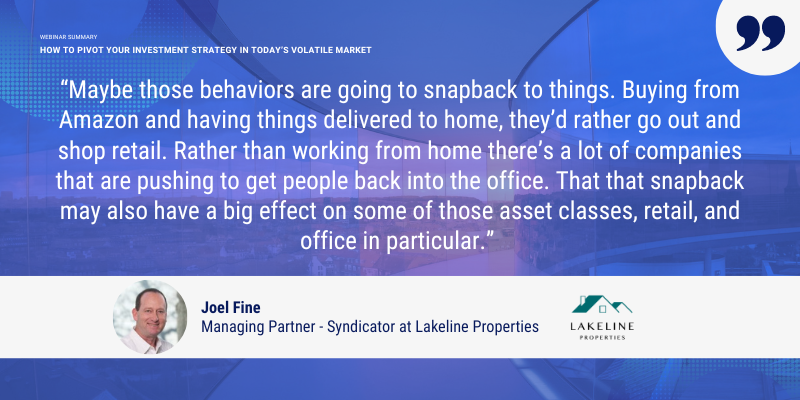 How does the current dominance of the Extended Stay Hotel market segment in the hotel development pipeline affect the demand for multifamily properties, especially those priced out of mortgages?
During the webinar, an attendee asked about the impact of the Extended Stay Hotel market on the multifamily demand. The question received two different responses from the speakers. One suggested an increase in hotel conversion to multifamily, while the other emphasized the importance of competition between hotels and short-term rentals in the hotel market.
These varied responses provided valuable insights to the attendees, giving them important considerations when examining the effects of the Extended Stay Hotel market on multifamily demand.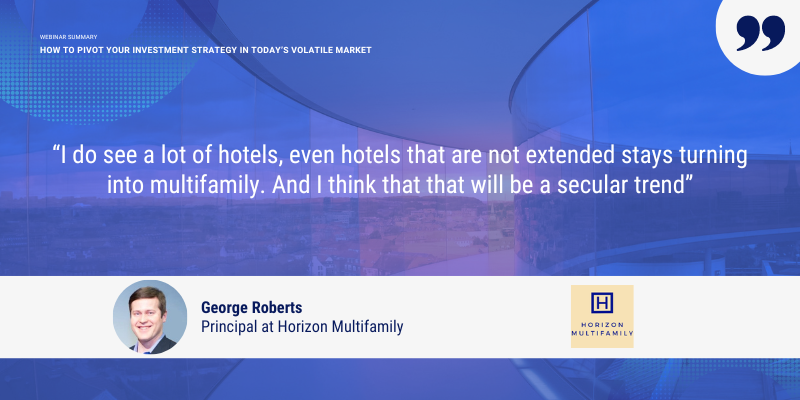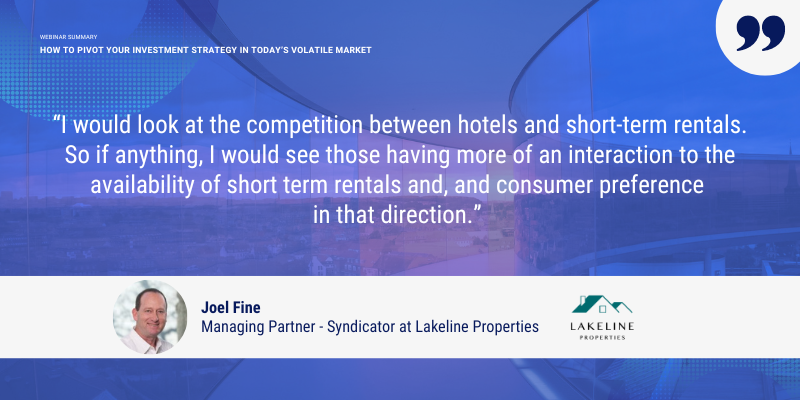 Can you identify any locations that are currently performing better than others?
Joe Killinger provided his observations on the cities and states that continue to experience population growth, including Nashville, Atlanta, Texas, and Florida. However, it is important to note that while these cities and states may have strong growth potential, they are not without their own risks. Investors should carefully evaluate each opportunity before investing.
Do you still see popular cities as Safe Cities for the upcoming years?
Speakers agreed that there is always some degree of risk involved, and no investment can be guaranteed to be completely safe. While certain steps can be taken to reduce risk, such as conducting thorough research and analysis, diversifying investments, and being cautious about taking on too much debt, there will always be factors beyond an investor's control.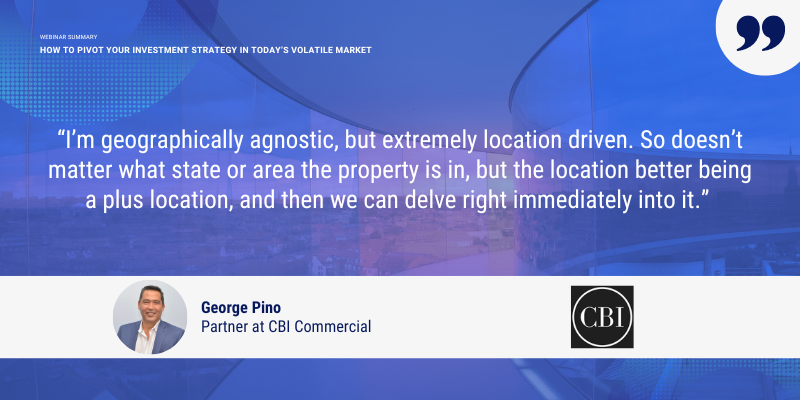 Are you looking at different markets now?
This discussion pertains to whether the speakers are exploring alternative markets for investment.
Most speakers quickly agreed on the importance of keeping up with changing markets and exploring new opportunities for investment and development rather than solely relying on popular locations. 
They encourage investors and developers to remain open-minded and receptive to emerging markets, which may present an untapped potential for growth and success. By considering overlooked markets such as East Tennessee, Boise, and Idaho, investors and developers may discover unique opportunities that others have missed.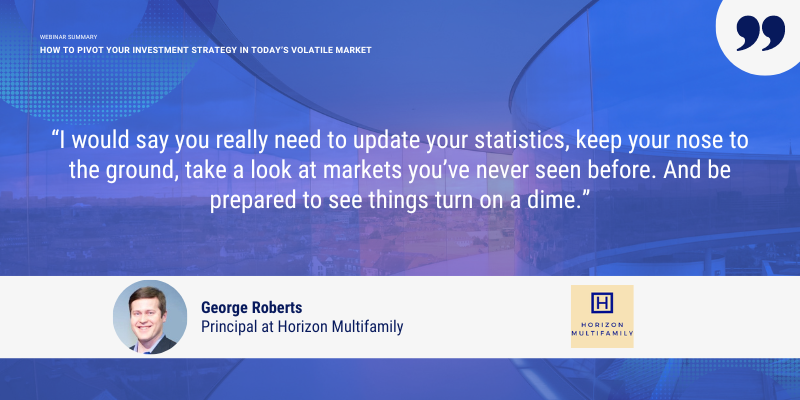 Has your underwriting changed today, given the current market situation? Are these changes permanent or temporary?
The speakers generally agreed that they had not made significant underwriting changes but adjusted their tolerances for the metrics they use, particularly during market fluctuations.
Joel Fine also shared that growing interest rates and pricing have significantly impacted his underwriting, and inflation has increased construction costs and uncertainty, prompting him to increase the buffer he builds into his margins.
This highlights the importance of adapting to changing market conditions and considering various factors that can impact underwriting.
Are you concerned that the interest rates will continue to get higher or do you think they might decrease?
The speakers collectively agreed that interest rates are on an upward trend and are expected to continue to rise, which could impact various aspects of the market, such as borrowing costs and investment returns.
This underscores the need for investors and developers to remain vigilant and adapt their strategies accordingly to navigate through the changing market conditions.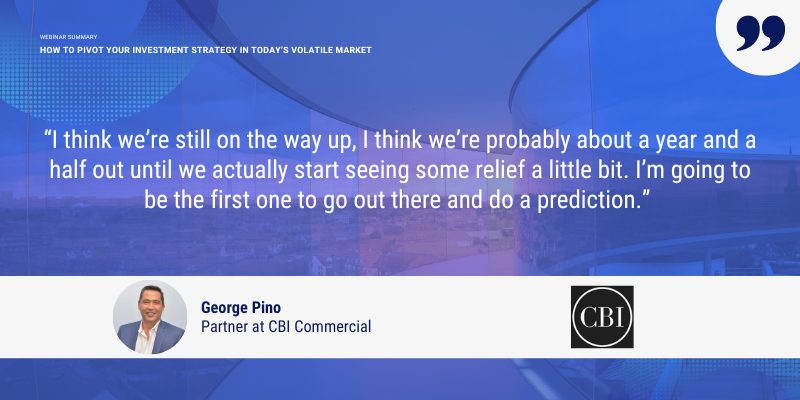 Do you see any softening or lower cash flows with your current investments?
The question posed to the speakers elicited diverse responses based on their experiences, with variations in cashflows and concessions depending on the deals or investments they were managing.
The speakers noted that submarkets and class C properties were experiencing challenges and pullbacks due to delinquencies and struggling tenants to pay rent but offered solutions and ideas to address these issues.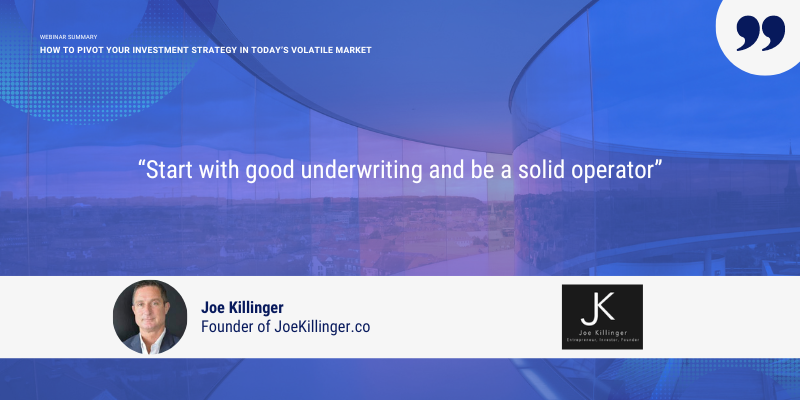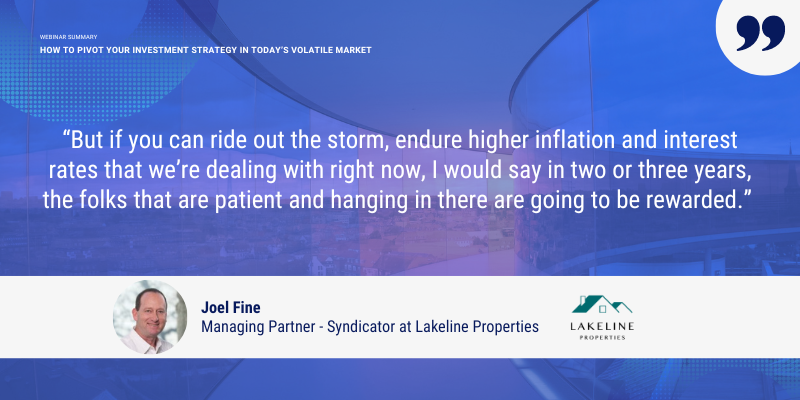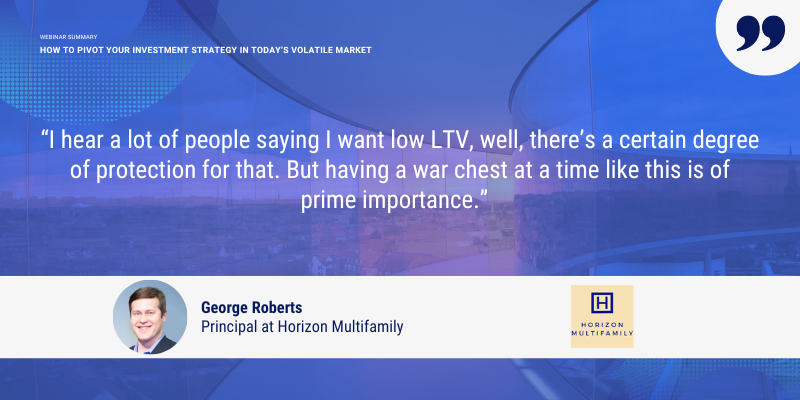 How do you anticipate emerging trends for 2023 and 2024 will impact your investments, and what factors are you keeping a close watch on? 
During the discussion, after a range of responses from the speakers, several emerging trends were identified for developers and investors to watch, including hotels, self-storage facilities, quick-service restaurants, multifamily, and single-tenant net lease properties.
In addition to these trends, Joel Fine, with his experience in development, pointed out a potential post-COVID-19 rebound trend that may not be occurring yet but is worth monitoring.
He also shared his recommendation of having a contingency percentage of 5% in underwriting but also advised stress testing up to 10% to assess the impact of potential unforeseen circumstances, emphasizing the importance of having a buffer in place to account for any unexpected costs.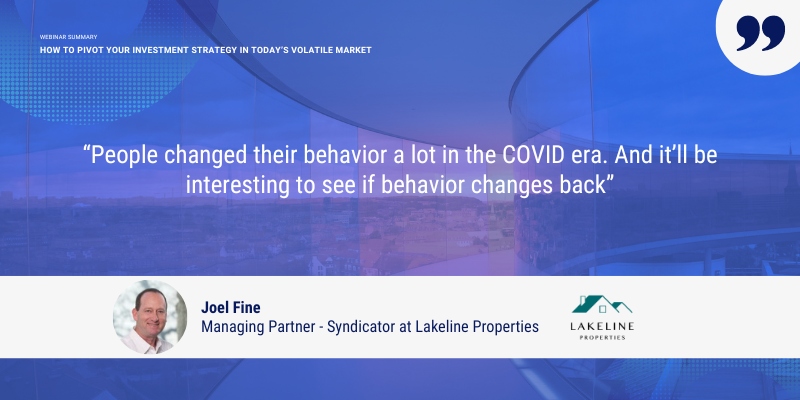 Conclusion
Navigating the investment and development world has become increasingly challenging with the rise of interest rates, inflation, and changing customer behaviors. Still, by keeping an eye on emerging trends, these challenges can be overcome with the help of thorough analysis, data, and expert advice. 
You can access the complete webinar by clicking on this link.
---
Take your investment skills to the next level by joining our webinars where market experts share their insight, tips and tricks exclusively with Smart Capital Center! Sign up for our mailing list now to receive exclusive invitations and the latest trends and strategies in the industry.
---
Smart Capital Center, the world's first real-time valuation and mortgage platform, empowers real estate investors with institutional-grade insight, unbiased, affordable investment analysis, and capital to enable smart investment decisions and fast dealmaking.
Invest with confidence
find the value of any commercial real estate property