June 29, 2023
Smart Capital at Realcomm | IBCon 2023: Shaping the Future of CRE with AI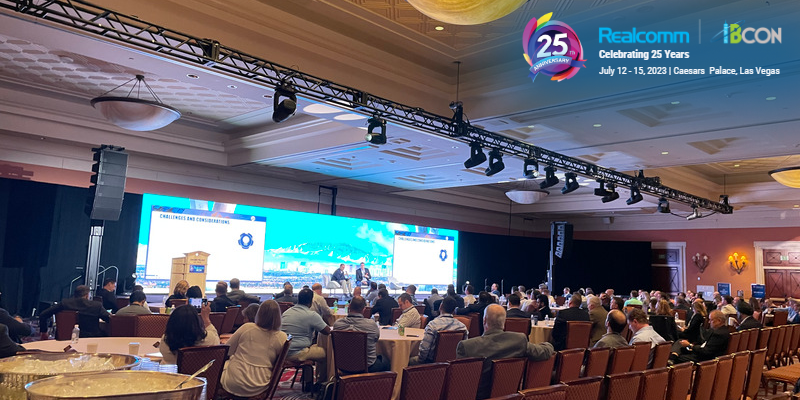 The highly anticipated Realcomm | IBCon 2023 took center stage at the grandeur of Caesars Palace in Las Vegas, Nevada. This gathering brought together innovators and industry experts in the realm of technology and real estate.
Among the technological powerhouses, Smart Capital showcased its industry-first intelligent investment and portfolio monitoring platform. Designed to transform the dynamics of the real estate industry, our platform utilizes Artificial Intelligence to drive investment returns and portfolio growth.
Leveraging the power of technology, Smart Capital drives speed, enhances insights, and lowers cost for any real estate and mortgage transaction.
Wide-Ranging Discussions: From AI Roadmaps to Automation Strategies
This conference also became a place for exchanging groundbreaking ideas, discussing the latest developments in the industry, and charting the future course of technology in real estate. Several key topics emerged from the discussions, which covered a broad spectrum of areas.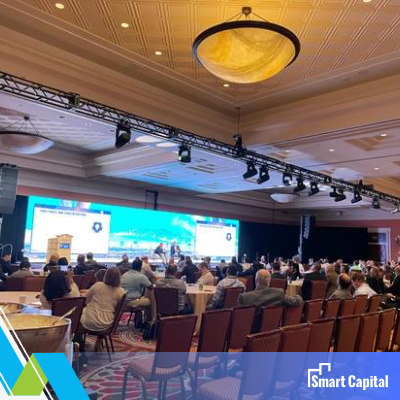 1. Charting a Responsible and Effective AI Roadmap for CRE Companies
A major focus of the conference was on the importance of establishing a well-structured roadmap for CRE companies keen to harness the power of AI. Attendees were offered guidance on the essential steps of understanding AI basics, dealing with ethical, legal, and technical aspects of AI, and learning about change management and organizational behavior. The session also provided insights into 'quick win' strategies that companies can adopt while working on larger initiatives that hold the potential to fundamentally transform the way they operate.
2. Embracing the Automation Revolution
Another significant topic discussed was the revolution in business processes brought about by advanced automation technologies. A special focus was on how real estate IT executives are increasingly turning towards robotic process automation, AI, and machine learning to support their organizations' growth and innovation while simultaneously achieving efficiency and cost optimization. A variety of automation use cases for the real estate industry were discussed, from leasing and reconciliations to budgeting and reporting.
3. Exploring NextGen AI ChatBot Applications for CRE
The conference also delved into the potential of AI Chatbot applications for the commercial real estate sector. Highlighting the capabilities of AI platforms like GPT-4, the discussions revolved around how these technologies can automate real estate tasks such as industry research, enhance communications, and improve various other areas, such as tenant support and leasing marketing campaigns. This session offered attendees a peek into the current state of chatbot technology, showcasing real-life examples and exploring its future potential for the CRE industry.
The wide range of topics covered during the conference affirmed the event's status as a vital hub for thought leadership in real estate technology, reinforcing Smart Capital's commitment to remain at the forefront of these developments.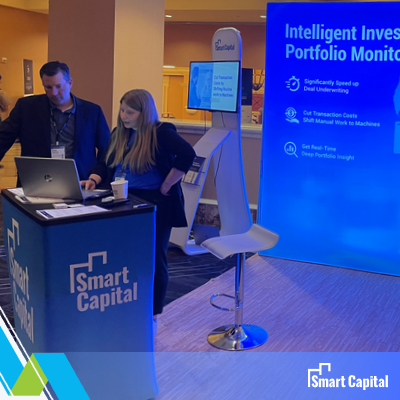 Industry Leaders Recognition
Amid the flux of technology and innovation, this year's Realcomm | IBCon stood as a testament to the strides made in CRE. It was here that Smart Capital, along with other companies, was recognized as a game changer, collectively redefining the CRE landscape through the transformative power of AI and ML.
This significant recognition, during the CIO Forum by executives from CohnReznick, spotlighted Smart Capital's far-reaching impact on the CRE industry through intelligent extraction and analysis of property financial documents.
Started as SpaceQuant, Smart Capital has always been at the forefront of leveraging AI and ML. But our technology is already well beyond "intelligent extraction and analysis of property financial documents".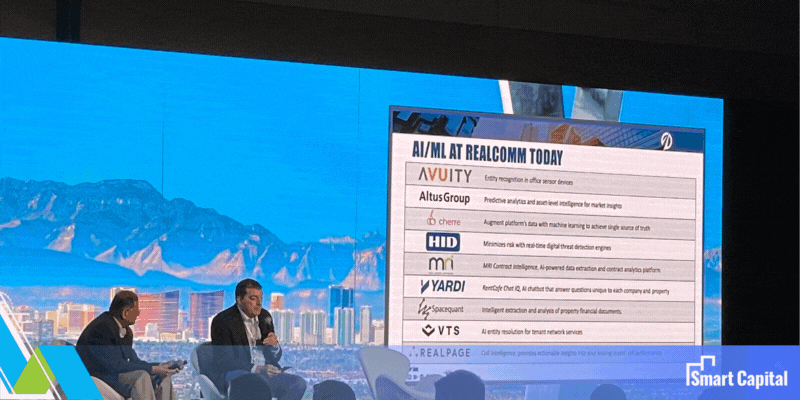 Smart Capital digitizes, automates, and powers insight at every step of a property investment transaction. From deal sourcing and underwriting to financing and asset management, our platform brings efficiency and smart decision-making.
Smart Capital reaffirms its dedication to innovation—a commitment that has not just been maintained but has grown even stronger. This acknowledgment at the conference amplifies our role in the industry, highlighting how we are pushing boundaries and setting new standards for the future of CRE.
Advancing with AI Adoption
The potential and promise of AI were a centerpiece of discussion during the CIO Roundtable, bringing the "Potential Areas of AI Adoption" into sharp focus. The conversation illuminated the myriad ways AI can drive efficiency and optimization in data sourcing, predictive analysis, tenant interactions, and security.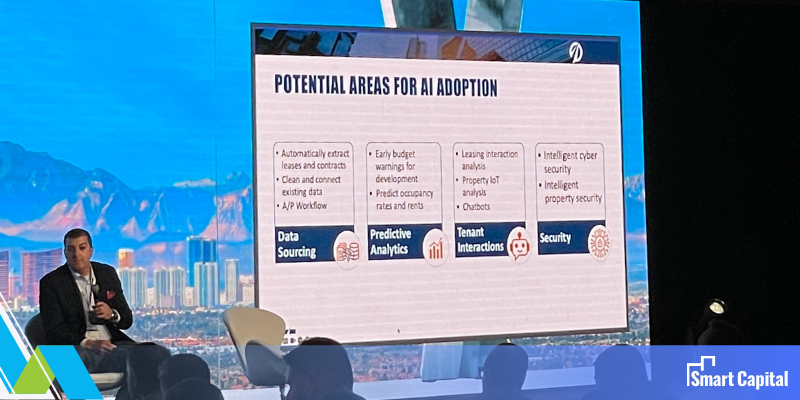 The exciting part? Smart Capital is not just participating in these discussions; we are actively living them. Our platform is already harnessing the power of AI, being a leader in CRE technology. We are innovating today what others are predicting for tomorrow.
1. Get Deal Flow that is Precision-Fit to your Investment Criteria
In real estate investment, speed is everything. By providing your investment criteria, Smart Capital AI-powered platform filters deals leveraging its rich data and ultra-fast underwriting capabilities, so you can focus on what matters. This approach cuts through the noise to pinpoint attractive investment opportunities that align with your investment strategy.
2. Ultra-Fast Property Valuation Deal Underwriting
The traditional underwriting process can be time-consuming and labor-intensive, but not with our AI-powered platform. Our technology automatically analyzes financial documents in real-time, producing comprehensive financial models in as little as 15 minutes–a task that could take days when performed manually. We're redefining efficiency, shifting routine tasks to machines, and enabling unprecedented decision-making speed.
3. Modern Asset and Debt Management
Our platform's capabilities extend beyond deal sourcing and underwriting. Once an investment is made, the platform seamlessly transitions into asset and debt management.
Our AI-driven technology enables real-time tracking of asset values, performance metrics, and covenants.
You gain deep, actionable insights into your investment portfolio at your fingertips. Automated alerts ensure that significant developments or potential issues are flagged promptly, enabling immediate action. This proactive approach is especially advantageous in debt management, allowing quick, informed decisions that maximize returns and mitigate risks.
By leveraging our advanced AI capabilities across the investment lifecycle, we're not just streamlining processes—we're transforming the future of real estate investment. Whether it's sourcing the best deals, speeding up underwriting, or delivering comprehensive real-time portfolio insights, our platform is paving the way for a new era in the industry. An era defined by unprecedented speed, efficiency, and intelligent decision-making.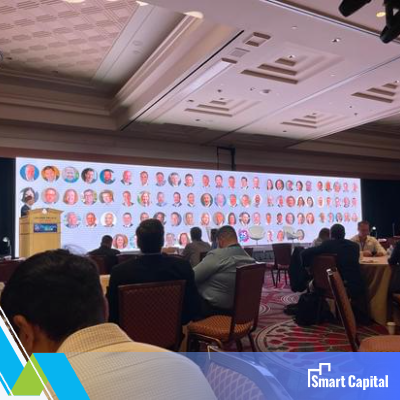 New Product Launched: The Future of Real Estate Investments
The buzz and energy at our booth during the conference were so much felt, as attendees were eager to discover how Smart Capital can help them in their day-to-day real estate business operations. One of the main highlights was the presentation of our new product, the Smart Capital+.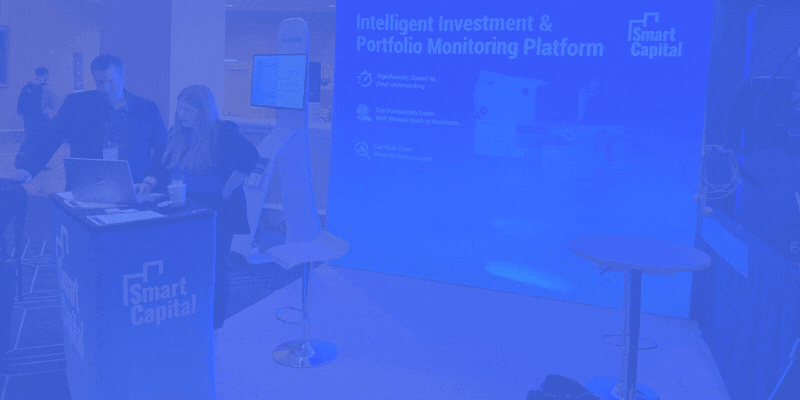 Demonstrating Smart Capital+ was another exciting event at our booth. It transforms the way businesses analyze loan documents, insurance forms, disclosures, lease agreements, and other financial documents. The objective? To make the process faster, smarter, and more cost-effective.
The uniqueness of Smart Capital+ lies in its integration with Chat GPT-4, the industry-leading artificial intelligence model. Trained on a diverse range of industry-specific materials, Chat GPT-4 demonstrates an exceptional ability to understand and generate human-like text based on the input it receives. This allows for a deeper, more nuanced analysis and management of financial documents, streamlining operations, and facilitating quicker, more informed decision-making.
Another key feature of Smart Capital+ is its accessibility and ease of use. There's no need for SQL queries or coding skills to analyze data. Users can input questions using regular prompts and common language. So, whether you want to know how many tenants are in rent rolls or the list of units with the status field vacant, Smart Capital+ can promptly deliver detailed responses.
This new product demo generated significant excitement at the conference, reinforcing Smart Capital's position as a pioneer in leveraging AI for real estate investments. With our dedication to continual innovation, we're looking forward to shaping the future of the CRE industry.
CEO Spotlight: Smart Capital's Vision for AI in CRE
Our CEO, Laura Krashakova, was brought into the spotlight. As a proven thought leader in the industry, Laura was asked to share her insights on the role of AI in CRE.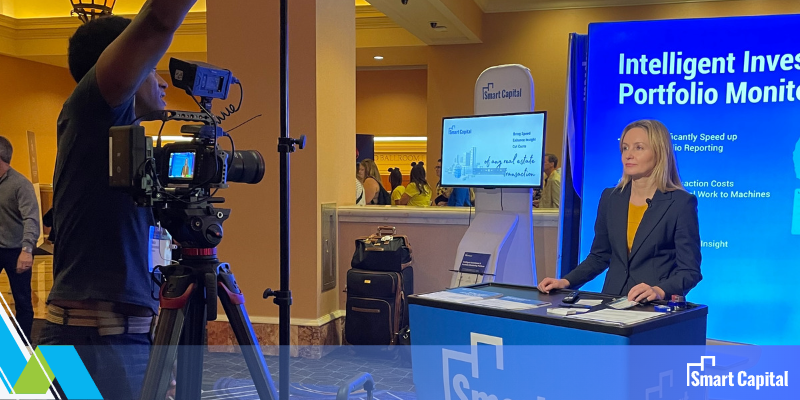 Laura's vision of AI transforming the CRE landscape and her commitment to driving this change through Smart Capital truly resonated with the audience. She emphasized the significant efficiency gains that can be made in real estate transactions by automating manual processes and shifting the burden of work from humans to machines. Laura also spoke about the potential of AI in providing real-time, deep portfolio insights that can support smarter decision-making.
Her forward-thinking views were a testament to the innovative leadership that has guided Smart Capital to its pioneering position in the industry. She underscored the compelling message that Smart Capital is a driving force behind the technology revolution that is sweeping through the CRE industry.
The conference was a perfect platform for Smart Capital Team to convey our views on the transformative power of AI, and her insights created quite an impact among attendees. Visitors went to our booth to learn more about Smart Capital's intelligent investment and portfolio monitoring platform and the key benefits it offers – from speeding up deal underwriting to cutting transaction costs and providing deep portfolio insights.
Conclusion
As we settle on Realcomm | IBCon 2023, the echoes of innovation, creativity, and transformation still resonate powerfully, marking this event as a pivotal juncture for both Smart Capital and the entire CRE industry. The spirit of the conference, reverberating with vibrant energy and ideas, provided an inspiring backdrop for our journey into the future.
Among the many forward-thinking enterprises, Smart Capital is one of the companies that stood out in technological advancement. From our early days as SpaceQuant to now being a leader in the sector, we've always pushed the use of AI and ML to make data into actionable insights and intelligent financial analyses.
However, we don't confine AI's transformative potential to just data analysis. We harness AI at every step of the property investment lifecycle – from deal sourcing and underwriting, to debt  and asset management. And central to this journey is our integration of Chat GPT-4 into our operations. Its ability to parse through and understand complex financial documents not only quickens decision-making but also introduces a level of precision previously unthinkable.
After the incredible discussions and breakthroughs at the conference, we can't wait to see what the future holds. Smart Capital will keep pushing forward, innovating, transforming, and leading the way in the CRE industry.  We stand on the brink of an exciting journey, poised to transform the industry using AI technology.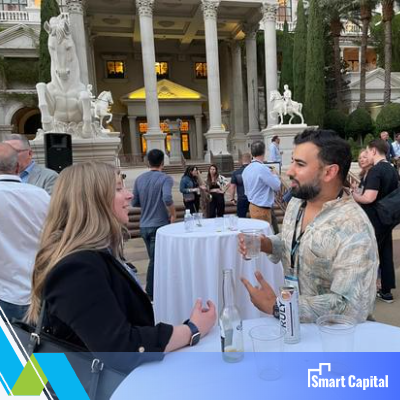 The journey is just beginning, and we're excited to be on the front lines, shaping the future of CRE.
---
If you want to see how ChatGPT is applied today, schedule a demo with us.
or Contact us at demo@smartcapital.center or +1 (650) 513 – 0963
---
Smart Capital is the world's first real-time valuation and mortgage AI-powered platform that digitizes, automates, and powers insight at every step of a property investment transaction – from deal sourcing and underwriting to financing and asset management.
Invest with confidence
find the value of any commercial real estate property